Extend your reach with fundraising programs
Many of you (our customers) have been asking us to support more expansive and larger-scale fundraising initiatives and we're excited to announce the release of 'fundraising programs' to super-charge your growth! Fundraising programs enable you to expand your fundraising across multiple dates and multiple locations.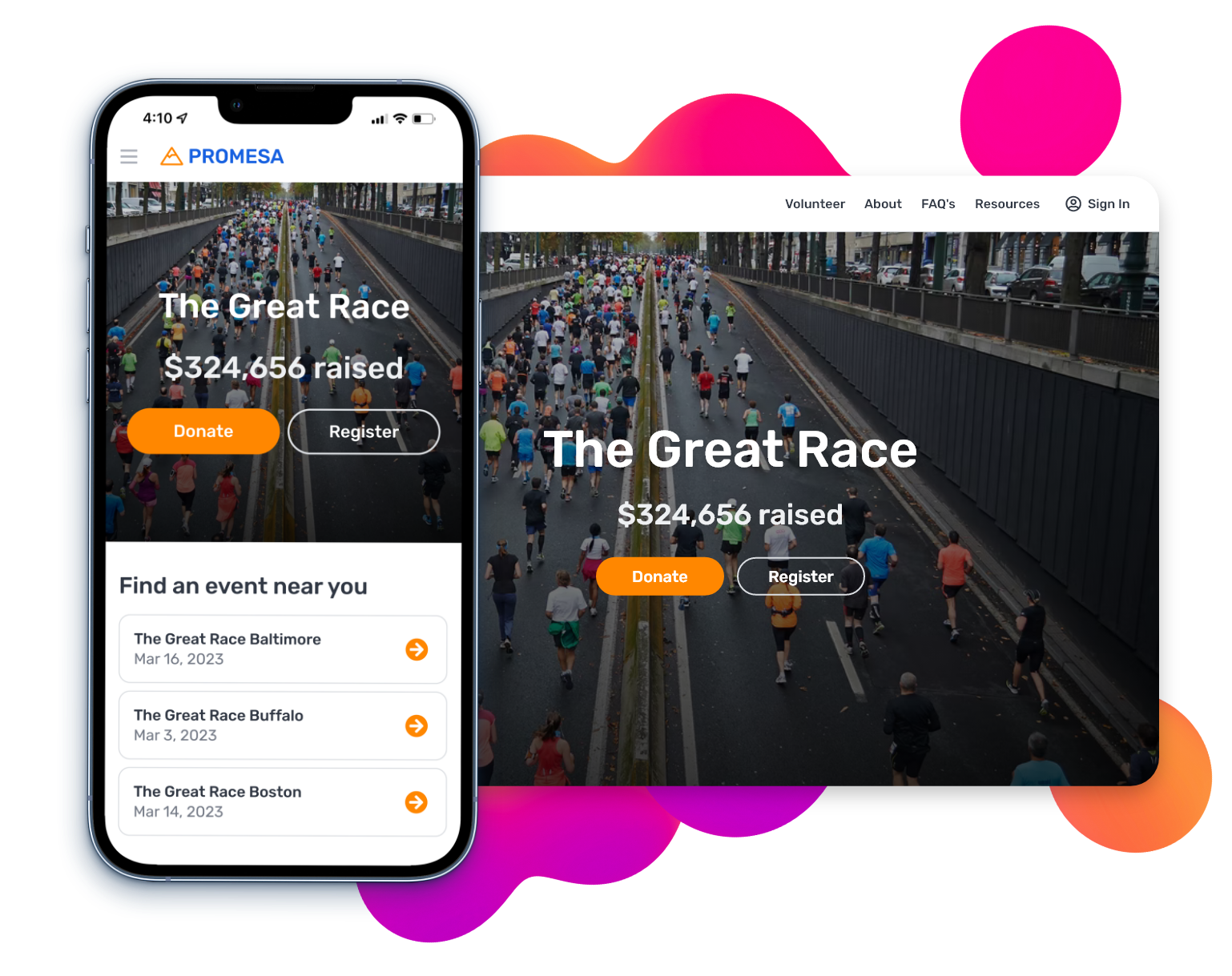 Programs provide a main landing page or microsite that connects multiple individual fundraising campaigns together and provides you with a dashboard and administrative interface to manage it all.
Fundraising programs are ideally suited to support fundraising initiatives that span multiple locations, like a multi-city run/walk/ride event or a local event that occurs on multiple dates. Check out these highlights of fundraising programs:
Create a full microsite for your fundraising initiative including a customizable homepage that lists each fundraising campaign and displays your overall fundraising total
Create sub-pages on your microsite to describe your mission, recognize sponsors, provide fundraising tips as well as post FAQs for donors and participants
Enable participants to search and identify the location or campaign to join for their fundraising
Provide potential donors a single central location to understand your mission and search for a specific fundraiser or teams they want to support
Empower you and other organizers with real-time insight through a fundraising dashboard with the ability to drill down into each of your individual campaigns
Manage permissions for others in your organization so they can access a single campaign or multiple campaigns across your organization
Educate and inspire your participants through new communication tools
A strong communication plan is a key element to a successful peer-to-peer campaign because keeping your participants and team captains informed and inspired will not only keep them engaged but also help you raise reach your fundraising goals.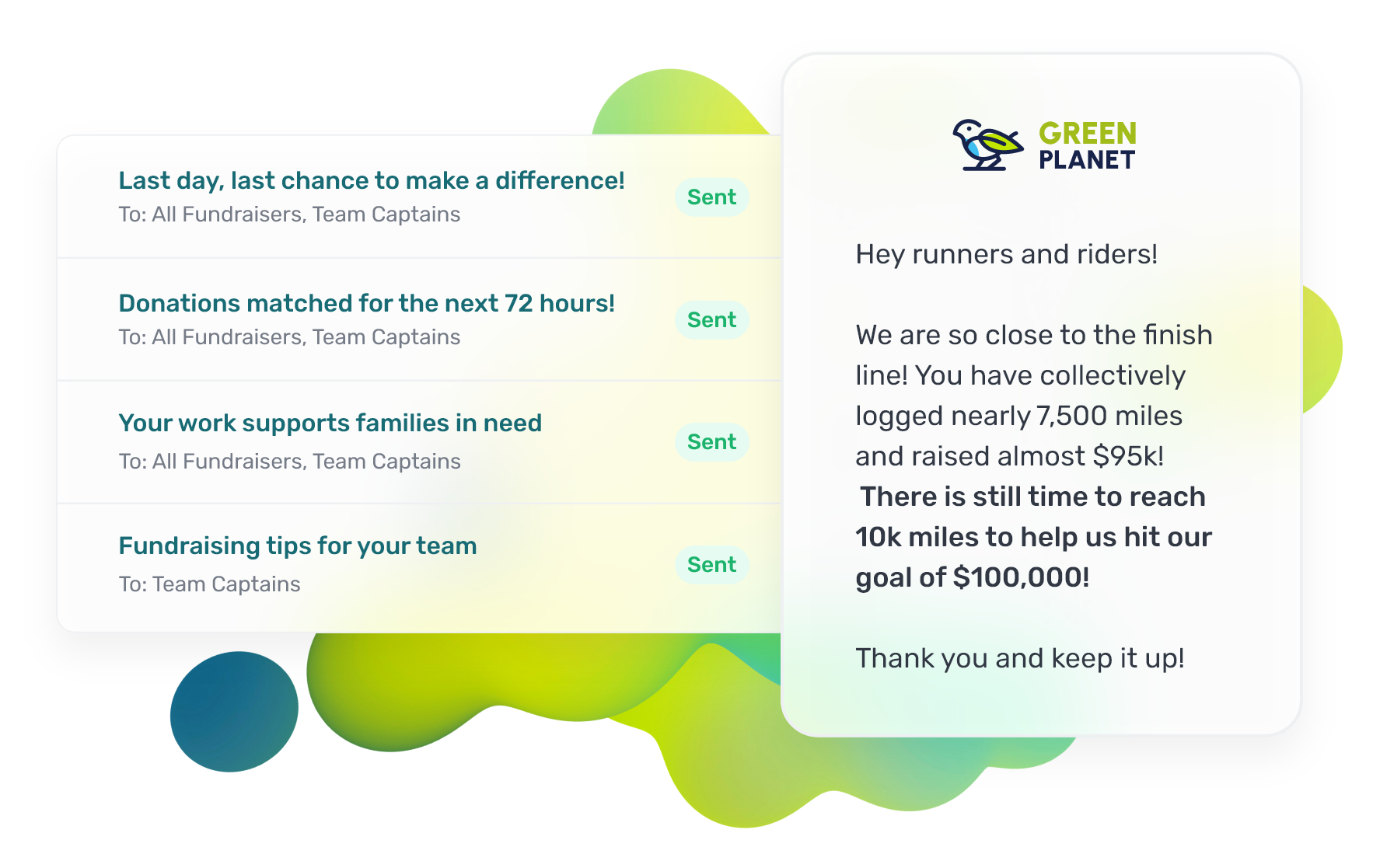 The new messages area provides the ability to create and send custom emails right from your campaign dashboard. Here's how:
Step 1: Quickly select your audience. You can quickly build the audience for your message by selecting fundraisers, team captains or donors. You can also segment your audience based on more detailed traits like the ticket registration options participants purchased or responses to questions answered when they joined the campaign.
Step 2: Create a clear and compelling email. The new email creation tools allow you to create emails that are the perfect balance of information and inspiration! You can quickly customize your message with formatting tools including subtitles, bullet points, hyperlinks and section breaks. You can also add clear calls to action so no one misses out on the important details in your message.
Step 3: Track the results from your campaign dashboard. After you've sent your message, you can monitor and track the open rates for each message in your messages dashboard and quickly toggle to your main campaign dashboard to see how your emails are driving fundraising!
The ability to create and send custom messages to your community is in addition to the tools already provided to customize messages like the donation receipt and the 'welcome' email sent to all fundraisers when they join your campaign.
Check out this post to learn more about developing a successful communication plan for your fundraisers.
Expand competition within your campaign through custom leaderboards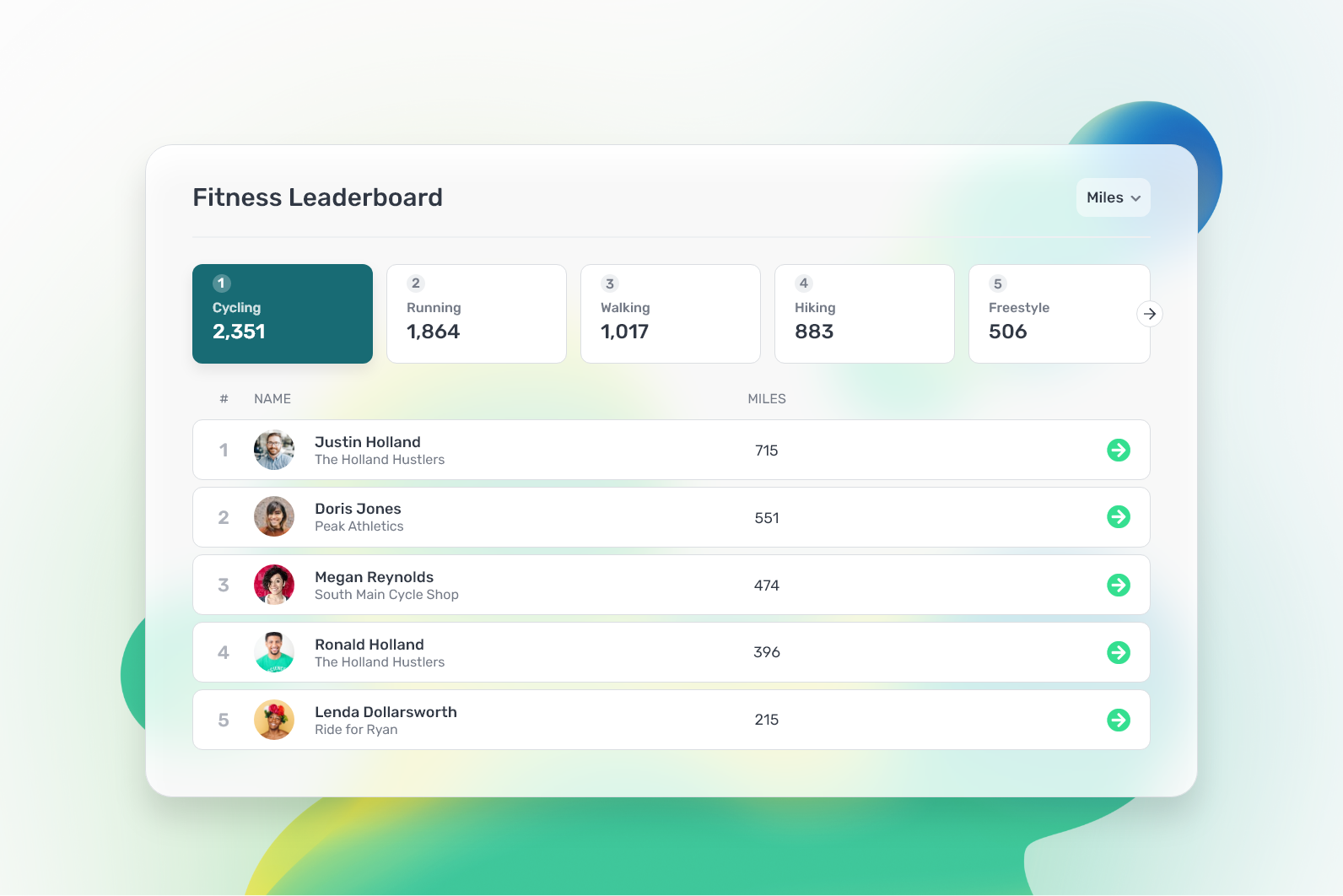 New admin tools allow you to showcase various fundraising groups within your campaign. You can highlight your endurance athletes versus your weekend warriors, foster competition among your corporate teams or create custom groups specific to your campaign.
If you'd like to learn more about these updates or other improvements we've made, schedule a time to talk with us. We'd love to help you reach your fundraising goals!
ICYMI: Here are the details of our recent releases from Winter 2022, Fall 2021 and Spring 2021
Share this Story:
Published on April 21, 2022
by Dave Costlow