As part of our relentless pursuit to help you create successful and engaging fundraising initiatives with your community, here are the latest additions to Pledge It.
Save time and automate your work
Pledge It's integration with Zapier allows you to seamlessly share data from your Pledge It campaign with 3000+ other web applications, saving you valuable time so you can focus on running a successful fundraising campaign. This means tasks like engaging fundraisers, nurturing donors and reconciling donations can now happen automatically and there's no coding required! And the integration through Zapier uses bank-level security to protect your information.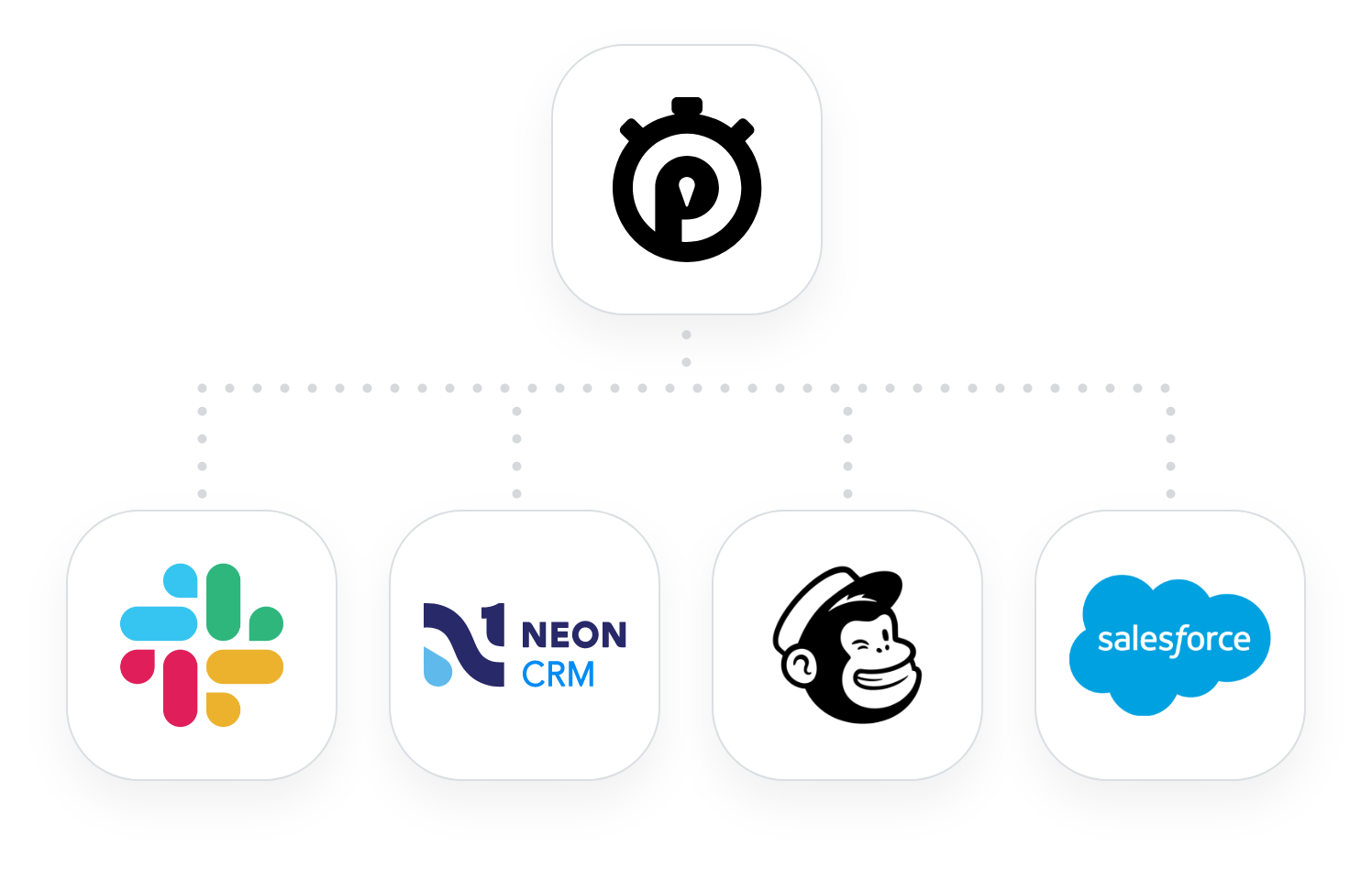 The potential applications are nearly limitless, but here are a few examples of what you can accomplish through Pledge It + Zapier:
Nurture and share fundraising advice with fundraisers and participants who join your Pledge It campaign by automatically adding fundraisers to email campaigns in platforms like Mailchimp or Constant Contact
Begin engaging your donors by automatically adding them to your CRM or donor management system like Salesforce or NeonCRM
Monitor your campaign in real-time by automatically sending yourself a Slack message or text each time a new fundraiser joins your campaign or every time you receive a new donation
Save time reconciling donations by sharing Pledge It transaction data with your accounting software like QuickBooks
Amplify stories from your community
One of the great aspects of an activity-based challenge campaign is your participants are frequently posting to their personal pages. They may be posting updates about the activity they completed - like a celebratory selfie after a run or a map of a challenging trail completed - or posts may be more personal, like a message explaining they are participating in your event to honor a family member or close friend. Within each of these posts, your participants are sharing their unique story about why they're supporting your cause and now we've made it easier for you to discover these inspiring stories and share them across the campaign!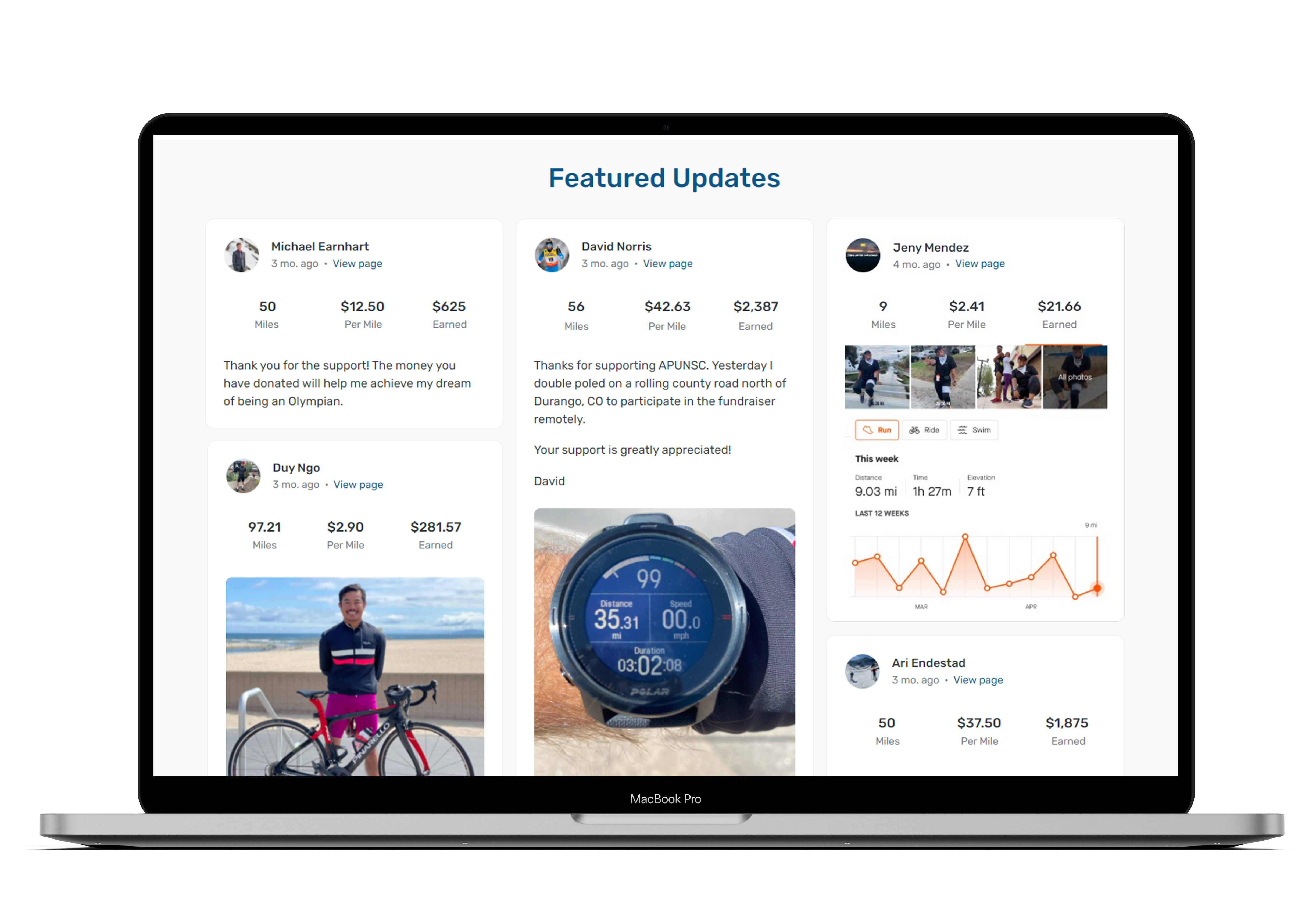 The most noteworthy posts from your fundraisers are highlighted in real-time on your campaign dashboard for you to explore. You have the option to filter the updates shared by all your fundraisers and when you discover an interesting post, you also have the ability to quickly feature that post right on your campaign homepage! This allows other participants and donors to experience the incredible athletic feats and inspiring personal stories about why participants are supporting your mission and feel more connected to the community. (And a little inspiration from the community goes a long way in keeping fundraisers motivated to support your cause.)
And a host of other enhancements to help you create successful campaigns
We continue to expand our platform to empower you to create successful fundraising campaigns that suit your community. Here are a few recent additions:
Charge registration fees as part of your fundraising campaign: Whether it's an in-person event, virtual activity challenge or a hybrid campaign, you can set up and charge registration fees as part of your fundraising event. You can offer multiple registration options to cater to different audiences and price points, set up discount codes and quickly access reports on all the registration activity across your campaign.
Customize emails to your participants and donors: Deliver tailored messages that educate and inspire your community by customizing emails sent to your participants and donors
Collect additional information from your participants: Learn more about participants by asking custom questions when they join your event. You can create simple multiple-choice questions like - 'What is your t-shirt size?' or 'How did you hear about the campaign? to more open-ended questions like - 'Why did you choose to participate in this event?'
If you'd like to learn more about these updates or other improvements we've made, schedule a time to talk with us. We'd love to help you reach your fundraising goals!
Share this Story:
Published on September 14, 2021
by Dave Costlow