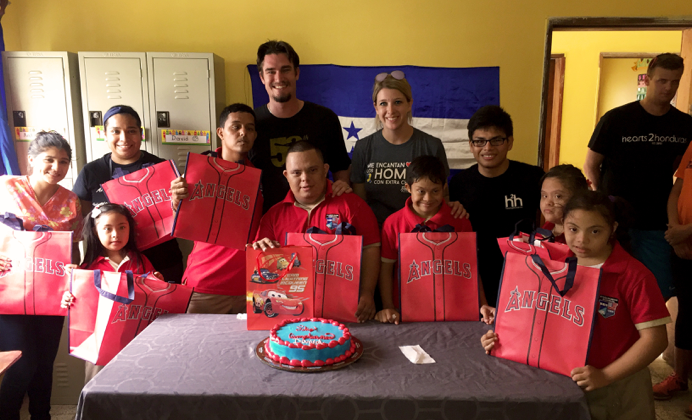 SUPPORT CHILDREN WITH DOWN SYNDROME IN HONDURAS!
The past several winters, I have traveled to El Progreso, Honduras with a group of athletes determined to make a difference. We have been joined by spouses, friends and family members and the experience has been transformative. ICON Sports, Pastime with Purpose and Hearts 2 Honduras have partnered to provide the perfect platform for our group to get our hands dirty and work for those who struggle for things that we take for granted on a daily basis. Our lives were forever changed by the children we met in that impoverished town, but my wife Jordan and I were especially touched by the children living with Downs syndrome.
Our inaugural trip, we broke ground and began construction on a learning center for the community. Since then we've continued to invest in those amazing children, providing resources for them from education to clothing and shoes. Our mission partner, H2H continues to provide food, shelter and education to over 200 children. Through the Restoration Education program, we are working to "break the circle of poverty one child at a time" by giving children in at-risk communities the chance to participate in programming at the learning center we helped build. The past two years, we have also turned our attention to helping improve the lives of children in Honduras living with Down syndrome, supporting the Love and Learn 21 (LL21) program.
---
HOW CAN YOU HELP?
I will personally match all of the funds raised, doubling our effort.
---

ABOUT LL21
The Hearts2Honduras founders started a groundbreaking education program for people with Down syndrome called Love and Learn 21 (LL21). The 21 represents the 21st chromosome which is where Down syndrome occurs, where there is a 3rd copy of the 21st chromosome (also known as trisomy 21). The "Down" in Down syndrome is named after John Langdon Down, a British physician who worked with people with intellectual disabilities.
The LL21 program is designed to provide educational opportunities for people with Down syndrome in Honduras. Teachers and assistants will partner with participants and their families to create individualized plans in an effort to meet the needs of each student. Students will receive instruction 3-5 days a week at a bilingual school in El Progreso that we are partnering with. The goal of this program is to provide opportunities for people with Down syndrome to grow, learn, and become more involved in their communities. This is the first program of its kind in Honduras and will be the first educational experience many of these students will receive.
This program began March 1, 2016 and has been a huge success! There are 12 students participating and each student receives individual instruction from our team of teachers and assistant teachers. We also have a certified trainer as our PE instructor who is working with the kids so they can participate in the Honduran Special Olympics next year!
THANK YOU
Thank you for your support and for helping children with Down syndrome in Honduras!
Sincerely,
Andrew Heaney