THIS SEASON, I'M TAKING THE FIELD FOR TAYLOR
The Taylor Haugen Foundation was created to honor the memory of the 15-year-old Niceville High School student who passed away after a traumatic liver injury sustained during a football game on August 30, 2008
In his short 15 ½ years, Taylor left an indelible mark on the community though his living faith and compassion for his friends, team, community, organizations and church. "T", as he was known, was well-respected by his peers, teachers, congregation and family as an upbeat, positive, selfless yet self-confident young man. He was a natural leader among his friends and teammates, a mentor to the young and a positive influence and inspiration to all who knew him and of him.
In my rookie season with the Jets, I'm proud to launch the Touchdowns for Taylor campaign on Pledge It to honor Taylor's memory and support the Taylor Haugen Foundation's mission to build and recognizes youth leaders and promote youth sport safety. I'm asking fans and supporters to pledge a donation for every receiving touchdowns that the Jets have this season.
---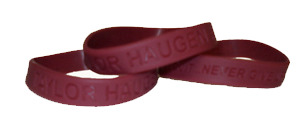 Pledge at least $1 per receiving touchdown or donate at least $25 and receive an official Taylor Haugen wristband.
Please pledge as little or as much as you can and please share this campaign with your family and friends. Together we can help make all athletes safer and save lives!