Please join me in providing students in low-income communities with the materials they need to succeed by pledging for every pass defended I record this season.
Each week during the regular season, the NFLPA #CommunityMVP program recognizes one player who has demonstrated a commitment to making a positive impact in his community. I am honored to have been chosen as the Week 11 NFLPA Community MVP, based on my efforts in helping to generate more than $30,000 to help the Compton youth football team attend the national championship, as well as for recently restocking the shelves of three food banks in Washington through Blanket Coverage, The Richard Sherman Family Foundation. In recognition of this honor, the NFLPA has kicked of my Defending Dreams campaign by making a $10,000 to my foundation. This is your chance to become a Community MVP with me by making your pledge.
Anyone whose total pledge or donation equals at least $50 will be entered to win an autographed Richard Sherman Jersey!
---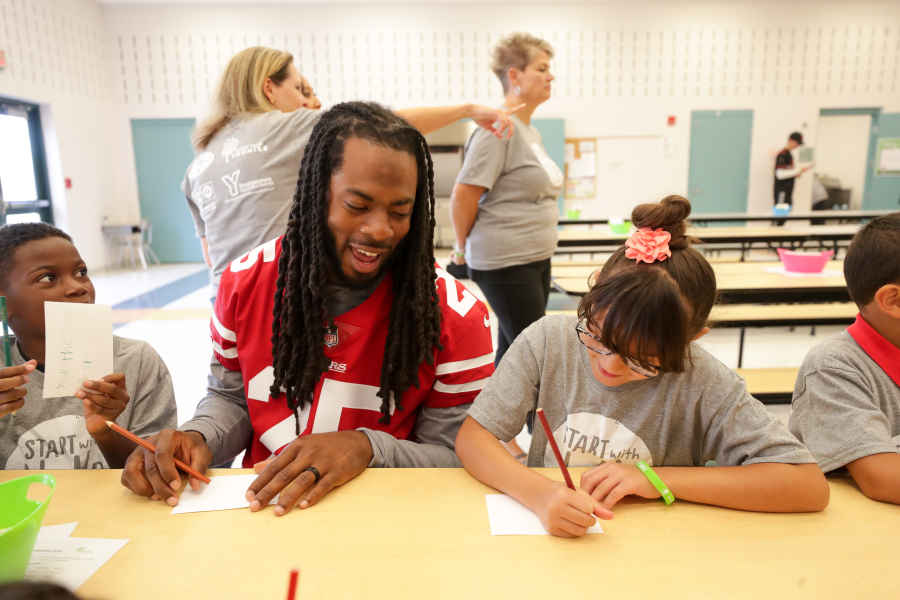 WHO YOU'LL BE SUPPORTING
Blanket Coverage, the Richard Sherman Family Foundation, was formed in 2013 to provide students in low-income communities with school supplies and clothing so they can more adequately achieve their goals.
During his high school days, his childhood idol Magic Johnson came to Dominguez High School in Compton, CA and spoke to Richard and his classmates on the importance of setting and achieving your goals. Since that time, Richard has made it his focus to preach those same sentiments and help students achieve their fullest potential.
Since forming his foundation, Richard and the Blanket Coverage team have made it their mission to provide school supplies for students across America. Richard has visited several elementary and high schools, speaking to the student body on making the world a better place than when they entered it.
---
THANK YOU!
This campaign goes beyond football. It's about giving to those who truly need and deserve our support. Thank you for supporting my cause and all of your support throughout my career!
- Richard Sherman