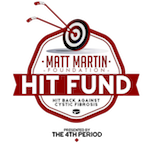 ---
Join the team and hit back against cystic fibrosis!
Over the last several years I've had the privilege to become friends with Gunnar Esiason. Gunnar has been fighting cystic fibrosis ever since a young age. I've learned a lot about cystic fibrosis and the challenges over 500,000 people in the US live with every day. For the 2016-17 NHL season I've decided to launch the "Hits Challenge" to raise awareness and donations for those with cystic fibrosis.
I am only one man. I need your help. There are doctors, nurses, researchers, hospitals, and incredible patients that need our help.
---
HOW CAN YOU HELP?
I'm asking fans, family, and friends to make a donation by pledging any dollar amount per hit I make this season against our opponents. You can make a pledge per hit or make a one-time flat donation. Proceeds will benefit the Matt Martin Foundation, which supports cystic fibrosis research.
Last year you helped raise more than $6,000 for cystic fibrosis. This season my fundraising goal is $15,000! Together, we can make a difference.
---
PLEDGE INCENTIVES
You can earn the following incentives by making a pledge or donation to my campaign.
---
Thank you for your support and generosity! Every donation can make a difference. If you can't make a donation you can support our campaign by sharing it with your friends and family via Email, Twitter, and Facebook.
Sincerely,
- Matt Martin, Toronto Maple Leafs