BIG Tackles is Back Again!
I'm proud to announce the return of my BIG TACKLES campaign, which supports area youth and Big Brothers Big Sisters Twin Cities.
Together with your pledge, every tackle I make during the 2018 season provides financial support to help kids facing adversity reach their potential. Last year, we raised over $41,000 – and I'm expecting 2018 to be an even BIGGER year on and off the field!
–Harrison Smith #22
---
RECEIVE A SIGNED 8x10 PHOTO: Pledge $1 per tackle to the Big Tackles campaign and you will receive a signed Harrison Smith 8X10 color photo.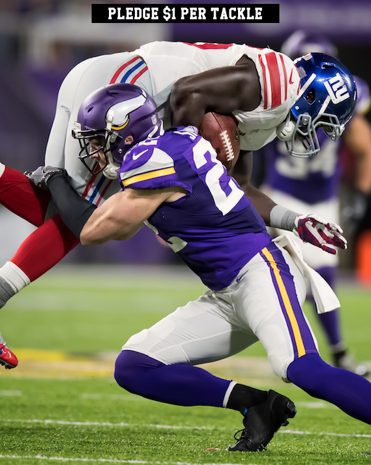 ---
RECEIVE AN INVITE TO A MEET & GREET WITH HARRISON SMITH: Pledge $4 per tackle or make a one-time $500 gift to the Big Tackles campaign and you will receive an invitation to a meet & greet and autograph session with Harrison Smith. (December 11, 2018)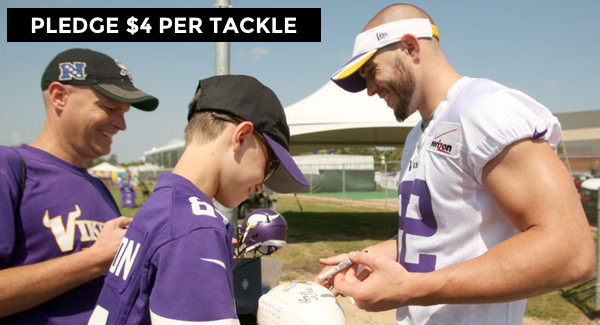 ---
WHO YOU WILL HELP
More than 3,000 Twin Cities kids each year benefit from having a Big Brother or Big Sister in their life. Youth who are mentored do better in school, have healthier relationships with their parents and peers, and are less likely to engage in risky behavior. But the waiting list for a mentor is long, especially for Little Brothers. Your support of Big Tackles will help Big Brothers Big Sisters Twin Cities match more youth and help them on the path to a life-changing friendship.
---
THANK YOU FROM THE HITMAN
This campaign goes beyond football, it's about giving to those who truly need and deserve our support. Please join me by making a pledge, or invest your time by becoming a Big— please click here to sign up. If you can't make a pledge, please show your support by sharing the campaign on Facebook, Twitter or Instagram. Thanks for your support of Big Tackles, and of Big Brothers Big Sisters.
Sincerely,
Harrison Smith #22