UPDATE Your donation will now be doubled! Dallan is being challenged to raise an additional $10,000 to get to at least $27,608 for Coaching for Literacy. He has been so impressive on and off the field that a friend of CFL has announced they will match ALL donations $1 for $1 up to $10,000 from now through the end of season.
Get Off The Sideline and join Dallan in the #Fight4Literacy!
** As of 9/17, Touchdowns to Tackle Illiteracy has raised $17,608. For every additional dollar donated (pledge per touchdown OR flat donation), this donor will DOUBLE the donation. If reached, the $10,000 gift will be added after the season completes.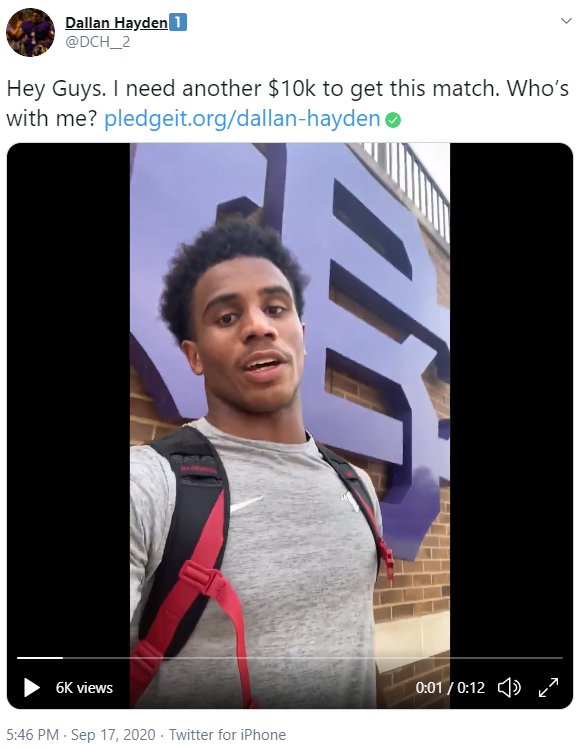 ---
Dallan Hayden understands that the athletic experience requires success in the classroom and on the field. A great education will prepare him for his future in college. Reading is an essential skill for success in school and life. Dallan remembers the hard work and effort required in learning to read. He knows that first you learn to read, then you read to learn. Many are missing the literacy skills needed to be successful readers and missing their opportunity to compete on the field and in the game of life.
Did you know 1 in 4 children in America grow up without learning to read? Language skills develop long before we're able to speak and literacy skills develop long before being able to read. Early literacy provides the tools needed to learn to read. Studies show kids exposed to early language and literacy-enriched environments usually prove to be good readers later.
Literacy skills can provide the tools needed to research the competition, think critically and outperform your opponent. Literacy skills help in understanding the complexity of a football play.
Dallan is committing this season to Coaching for Literacy, an organization that raises awareness about illiteracy and provides grants to literacy programs across the country. For every touchdown he scores, a donation will be made to support Coaching for Literacy's efforts.
Dallan is scoring to create opportunity for kids by giving them a chance to read. Will you join him to tackle illiteracy?
Your donation will help support the work of Coaching for Literacy so they can continue to bring light to problem of illiteracy and generate funds for literacy programs in partner markets.