The American Cancer Society, the National Association of Basketball Coaches and the nation's premier college basketball programs are teaming up for the Coaches vs Cancer 3-Point Challenge! Teams from coast to coast are squaring off to see who can raise the most money from behind the arc.
You can support the Houston Cougars by pledging for every 3-point shot we make this February!
Follow the national competition at 3pointchallenge.org. The team raising the most from their 3-pointers will be crowned champion. All proceeds of the 3-Point Challenge will benefit the American Cancer Society and Coaches vs Cancer.
---
SUPPORT HOUSTON'S CAMPAIGN TODAY!
Help us reach our goal and support Coaches vs Cancer by pledging for every 3-pointer we make this February. Every shot counts. Every life counts. Make your pledge today!
---
MAKE A PLEDGE. GET SWAG.*
By making a Diamond or Gold tier pledge, you will earn an exclusive Coaches vs Cancer 3-Point Challenge T-shirt!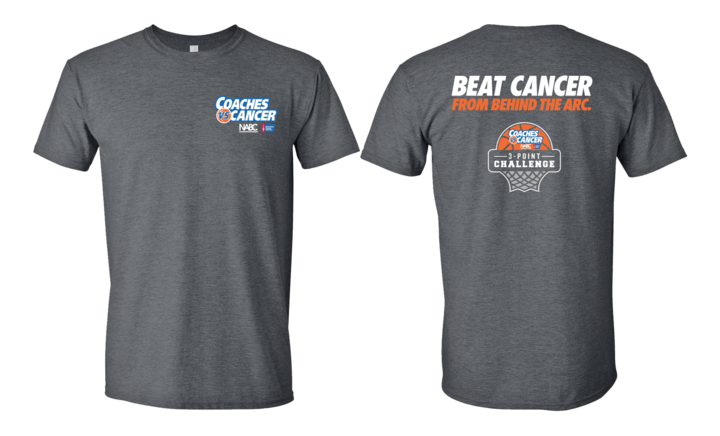 *Pledge per 3-pointer at Diamond or Gold tier or make a $100+ flat donation to qualify for T-shirt. Donors qualifying for the incentive will be emailed an order form following your pledge. T-shirts will be distributed at the conclusion of the 3-Point Challenge. For inquires, please contact 3PointChallenge@cancer.org.
---
The Coaches vs. Cancer program empowers coaches, their teams, and communities to join the fight against cancer by participating in awareness efforts, advocacy programs, and fundraising activities to help people with cancer today and to find cures to end the disease tomorrow.
To learn more about Coaches vs. Cancer, please visit www.coachesvscancer.org
Thank you for your support. Go Cougars!
Coach Sampson and the Houston Men's Basketball Team