---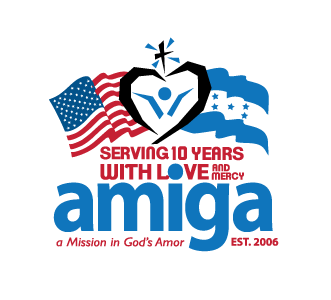 My wife Cai and I, Mike Schramm, will be pilgrims on the Camino de Santiago from Sept 8-16. The Camino is a pilgrimage to the tomb of Apostle St James the Great, dating back to the 12th century. It is also known as the The Way of St James, and has been the subject of films such as "The Way" and "I'll Push You". EWTN recently published a documentary about it. There are many routes that can be followed and we plan to walk the final 131 miles of the most popular route - the French Way. We will begin our pilgrimage in Ponferrada Spain on Sept 8 and finish nine days later at the Cathedral of Santiago de Compostela.
We are extremely excited to be dedicating this walk to AMIGA, a non-profit charity which we are deeply involved in and hold close to our hearts. Your pledge will go directly to AMIGA, A Mission In God's Amor. AMIGA serves the remote coffee producing populace of Honduras in the province of Copan, as well as people in and around La Lima. Each year we collect, sort, and pack donations of medicines, vitamins, hygienic supplies, medical equipment (canes, crutches, wheelchairs and mobility carts), clothing, other support supplies and then ship them in a 40 foot oceangoing crate to San Pedro Sula, HN. These annual shipments support two semi-annual medical brigades each year bringing medical care and high school scholarships to people who otherwise do not have financial means or are too remotely located to access care. AMIGA has operated in Honduras for 12 years and our next brigade in November will be number 36. We have grown from serving a few hundred people each year, to having served over 2000 on our most recent 35th brigade. Each brigade consists of 15-20 medical providers and support volunteers, who each pay their own way, and provides a basic annual physical evaluation to each patient seen, and then addresses whatever needs that we can. Each person, young and old, receives a supply of vitamins, basic hygienic items, and medication as needed. Recently we added an ultrasound device that allows mothers and fathers to see their baby for the first time in the womb. Children also receive doses of anti-parasitic medication. People have been known to walk for six hours to attend our clinics. The most important thing we deliver is hope and love, a human touch to many, who toil for little.
AMIGA has outgrown its' existing support system in Honduras and is raising funds to build a facility that will more adequately house volunteers while on brigade and more securely store supplies in between visits. This campaign goal will modestly raise a portion of the $125,000 still needed to begin construction. Your donation will fund this project and allow for additional future growth of this wonderful ministry, doing God's will in Honduras. Most important to AMIGA is your prayers.
Please join us on this pilgrimage by making a per mile pledge. We will post updates as we progress both here and on my facebook page. For more information, visit the the Hondurasamiga website and my facebook page, as well as:
Facebook: Amiga Honduras
Google "Camino de Santiago"
THANK YOU FOR YOUR LOVE, SUPPORT, AND PRAYERS.