---
EVERY TEAM USATF MEDAL IS ONE STEP CLOSER TO THE END OF CANCER
USA Track & Field is heading to the IAAF World Championships this August to continue our reign as the World's #1 Track & Field Team. But we'll be competing for much more than medals in London. We're competing to show the world that Together: Nothing is Impossible!
Together with the American Cancer Society, Team USATF is proud to join in the fight against cancer. But we need YOU to join our team. Pledge for every gold, silver and bronze medal won by Team USATF in London to help us beat the ultimate opponent - cancer.
Help us get the word out on social media using #NOTHINGISIMPOSSIBLE and share your support of Team USATF and the American Cancer Society in the fight against cancer.
---
PLEDGE TO EARN EXCLUSIVE SWAG!*
By making a Diamond or Gold tier pledge, you will earn an exclusive Together: Nothing Is Impossible tech tee!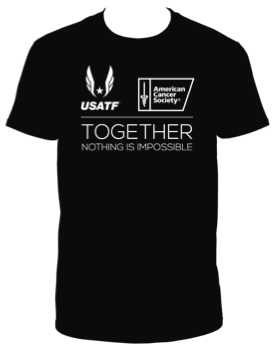 *Pledge per medal at Diamond or Gold tier or make a $100+ flat donation to qualify for the tech tee. Donors qualifying for the shirt will be emailed an order following the completion of the campaign. For inquires, please contact Kathleen.Horgan@cancer.org.
---
THANK YOU
Thank you to everyone who supports this campaign, whether you pledge per medal, give a flat donation or spread the word on social media. Team USATF cannot be the World's #1 Team without the World's #1 fans. Together, with the American Cancer Society, we can prove that nothing is impossible!
*Your donation is a tax-deductible contribution to the American Cancer Society. 25% of net proceeds will then be donated to Team USATF athlete development programs.