Each week during the regular season, the NFLPA #CommunityMVP program recognizes one player who has demonstrated a commitment to making a positive impact in his community. I am honored to have been chosen as the Week 1 NFLPA Community MVP. This is your chance to become a Community MVP with me by making your pledge.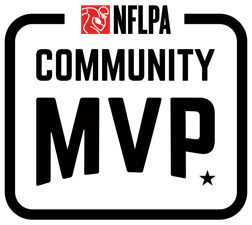 IT'S ABOUT MORE THAN FOOTBALL
My wife Caitlin and I are dedicated to helping those in need reach their full potential. Because of this, we formed the Thielen Foundation to help serve, educate, and inspire those in need. As part of the Thielen Foundation, we've launched this Catching Hope campaign to benefit our programming that we have organized over the past year. Your funds will directly impact:
The University of Minnesota Masonic Children's Hospital Behavioral Health Units and its incredible efforts to help kids who are courageously walking on the path toward healing and recovery
Our annual Salvation Army Christmas Giveback. Every year the Thielen Foundation blesses many parents and children with toys, clothing, household essentials and food at Christmas time. This year, we will be expanding it even further and providing resources to support these families throughout the year.
Finally, the funds will also be dedicated to expanding our academic achievement program that was recently launched at Brooklyn Center High School. The funds will help administer the project and also help us expand the program to hopefully additional schools in 2020.
You can catch hope for those in need with me by pledging for every catch I have throughout the 2019 season.
Please join me by making your pledge or one-time donation today! To double your impact, I'll be matching every pledge and donation dollar-for-dollar, up to $19,000. My partner CHOICE Bank will also be matching every pledge and donation up to $19,000, tripling your impact. With your pledge, I'll be working extra hard knowing that every catch can help a child take another step toward achieving their full potential in life.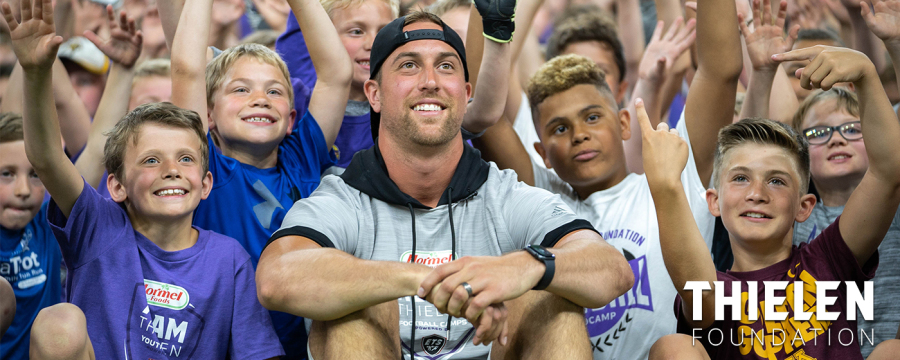 BECOME A CATCHING HOPE CHAMPION
If you are interested in doing more, click HERE to become a Catching Hope Champion, and launch your own fundraiser for this campaign. Share your fundraiser link with everyone you know, and have the chance to win a VIP experience. Catching Hope Champions will be recognized on Pledge It as they rise up the fundraiser leaderboard, and the top fundraiser will win a chance to attend the Thielen Foundation's next foundation event in 2020 and meet Adam!*
*Travel and accommodations not included
---
I'LL BE GIVING AWAY SOME GEAR FOR THOSE WHO MAKE A PLEDGE OR DONATION THAT MEETS THE FOLLOWING CRITERIA:
Pledge $1/Catch or Donate $100: Receive a Thielen Foundation T-Shirt
Pledge $3/Catch or Donate $300: Receive an Autographed Mini-Football or Autographed Thielen Foundation Picture
Incentives will be shipped after Week 17 of the regular season. Please expect delivery time of three/four weeks after the season completes.