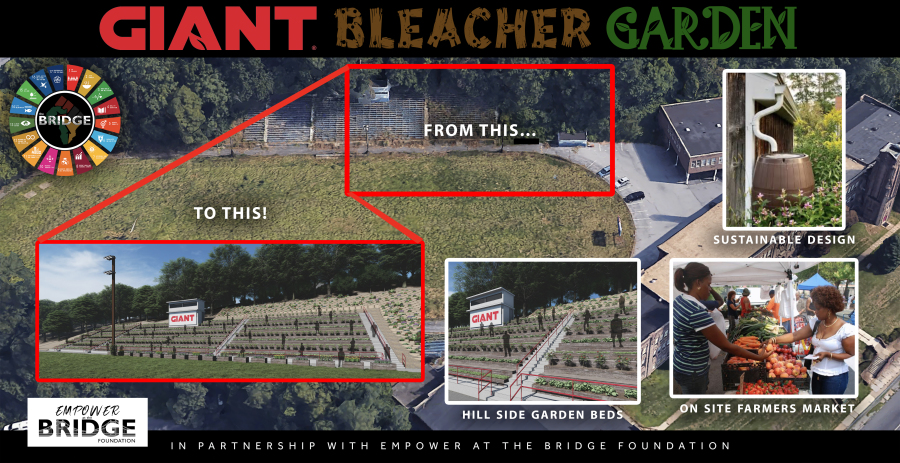 MISSION
We are aiming to promote Regenerative Neighborhood Development by creating a sustainable "Bleacher Garden" and high yielding "foodscapes" throughout The Bridge Campus in Harrisburg (former Bishop McDevitt). We are anticipating a yield of over 6,000 pounds of vegetables in the first year with increases of about 25% a year over the subsequent years as we improve the garden space and soil makeup. The first year, that is enough to supply 120 families with 50 pounds each of fresh vegetables over the growing season. Empower at The Bridge Foundation has partnered with community organizations City F.A.R.M. and Evolve Youth Trades Academy to bring this vision to life!
IMPACT
•Community Planned/Operated
•Youth Education/Trades Training
•Community Farmers Market
•Sustainably Grown (water collection, solar power pumps, composting etc.) – 9 U.N. SDG's Accomplished!
---
WE NEED YOUR HELP
"I want to volunteer!" Use this link to sign up - https://docs.google.com/forms/…
We will have volunteer days though-out the growing season so make sure you sign up and come get your hands dirty!
---
"I have materials!" We need the following:
—Wheel barrows —5 gallon buckets w/sturdy handles —Watering cans —400 ft of 1/2" garden hose —Harvest equipment like containers & buckets  —Materials for water catchment system —Fencing materials for chain link security fence —Pallet of organic fertilizer (Espoma Plant Tone)/granular —100 gallon tote of fish fertilizer  —Electric fence supplies
** contact us at BleacherGarden@thebridgehbg.com for drop-off instructions and any questions!
---
"I want to donate!" Hit the DONATE NOW button (a $200 donation builds ANOTHER box but any amount helps!)
** IF APPLICABLE Please Mail Checks to:
Empower at The Bridge Foundation
833 Meadow Lane
Camp Hill, PA 17011
LET'S GROW! TOGETHER!