Hello my name is Donovan Johnson. I go by DJ or Dynamite DJ. I am 11 years old. I've been skiing for 8 years now. I've always had the desire to slide down a snowy hill. I started skiing at Sierra at Tahoe then moved to skiing at Alpine Meadows to be on their development team and work my way up to Big Mountain skiing this past season (2014/15). This pledge it campaign was set up to help me achieve my dream of being a professional big mountain skier. Your pledge and donations will help me meet the team costs, competition fees and training costs that can really add up when trying to compete and learn all that I can from the great coaches and trainers that I am lucky to work with.
I would like to tell you a little bit about myself and things I like to do. I've been with the Alpine Meadows ski teams for 4 years now. Alpine Meadows is my favorite place to ski and snowboard, because the atmosphere is just so laid back and full of joy that it makes me feel good. This year I want to be on the Big Mountain competition team and compete at different mountains and meet new friends.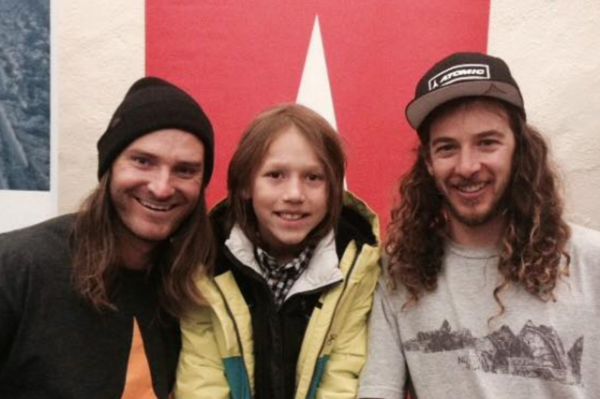 One of my passions is meeting and interviewing some of the pro-skiers and athletes that are in the skiing and snowboarding industry. I learned that they do so much other stuff outside of skiing such as travel to different places throughout the world, rock climb, mountain bike, base jumping, make movies and other crazy stuff and I strive to have as much fun as them. You can listen to one of my interviews I did at TGR's Premiere of "Almost Ablaze" at Squaw Valley.
I also enjoy biking, playing tennis, skateboarding, riding my scooter, and rock climbing. I love exploring the mountain, being out with nature, challenging myself and being in the element.
People seem to think or have the attitude of the better you are the cooler you are and that's not the case. I think, the more fun you have the better you are at something and that reflects on who you are as a person.
I am super thankful for my friends and family to keep pushing me and to never give up and keep striving further and to better. I have always wanted to be the best I can but now I realized that it is more than that, it's all about having fun, learning and I hope you can allow me to achieve the goals I've been wanting to complete at my young life.
Moving from the Bay Area and living in Lake Tahoe I realized it was really hard for me but I knew there was no going back. I had to look ahead and making this move would make me a better person and that I had to leave the past behind but not forgotten.
Above is a video of my first Squaw Cup competition I was in at the age of 10. I placed 9th in my age group and there were 30+ competitors I was competing against. Not bad for my first big mountain competition. Also at the age of 8, I competed in my first "big air" competition at Alpine Meadows and placed 3rd in my age group (8-10). I was very excited and ecstatic to learn that I placed that high for my very first competition I ever competed in and against all the competitors. There were some pretty good skiers that I competed against and each of us had a unique style and tricks. I had a lot of help from my coaches and teammates supporting me as I also supported them.
Thank you for your support and I pledge to complete my training so you can help me continue competing at a high level. My goal of 100 miles within 60 days will be a challenge, but I won't give up and promise to meet and beat this goal. You'll be able to track my weekly progress through RunKeeper, which I will share on my social media outlets for you to see as well as here.
Thanks again for support and help with achieving my goals and dreams.
– D Johnson