PLEASE JOIN ME IN SUPPORTING THE AMERICAN LUNG ASSOCIATION AT THE NFL COMBINE BY PLEDGING FOR EVERY INCH OF MY VERTICAL LEAP.
---
As I take the next step toward achieving my NFL dream, I have made an important decision to use my performance at the 2019 NFL Combine to support the American Lung Association, in honor of my mom. In early November, prior to my game against Rutgers, a routine chest MRI discovered a tumor in my mom's lungs. My mom is an extremely healthy and strong woman, so it was shocking to us when the biopsy revealed it to be lung cancer. Surgery would be needed to remove a portion of her lung and chemo and radiation treatment would quickly follow. This is all very new and scary to my family, but I know my mom is a fighter and I know we will fight this together.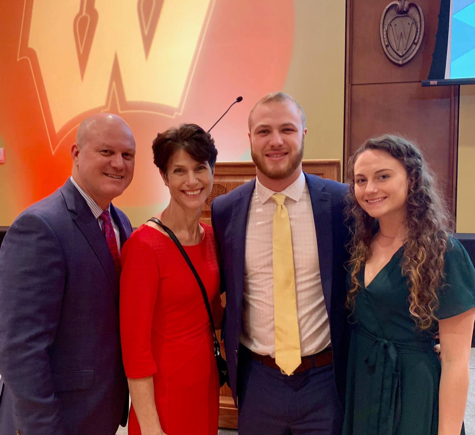 For my mom, and for all the families out there who face this battle, I am honored to use this great opportunity and platform that I've been given to support the amazing work of the American Lung Association as it works to save lives by improving lung health and preventing lung disease, through research, education and advocacy.
---
THANK YOU!
Thank you for your support of my campaign and of the American Lung Association. I'll be training extra hard and jumping extra high, knowing that with your pledges, every inch is more money raised in the fight to find cures and save lives for families like ours.
Please don't forget to share this campaign and your support on social media (Facebook, twitter, instagram, etc.).
Sincerely,
Ryan Connelly
---
Please also check out the Element Sports 2019 NFL Combine Challenge to see the important causes that my fellow Element NFL Rookies are supporting through their Combine performances.