Click HERE to purchase a custom cycling jersey: https://pedalforparkinsons.can…. All proceeds go towards our fundraiser!

Click HERE to purchase a custom t-shirt: pedaling.aaron@gmail.com (and put t-shirt somewhere in the subject of the email).  All proceeds go towards our fundraiser!
---
My father Rick and I have bicycled hundreds of miles together – he taught me how to change gears, the rules of the road, and how to clip in and out of my cycling pedals. In 2011, my dad was diagnosed with a Parkinsonism and had to transition from a road bike to a recumbent. Shortly thereafter, in 2015 he began falling and was unable to maintain balance to ride the roads safely alone. As my family and I have experienced the struggle with Parkinsonism, we could not have coped without the support of the Muhammad Ali Parkinson's Center at St. Joseph's Hospital & Medical Center at the Barrow Neurological Institute in Phoenix, Arizona. The MAPC provides outreach and education to persons with Parkinson's disease and related Parkinsonisms and their families.
As I turn 39 and approach my 40th birthday, I have set out to support my dad and to ensure that the whole Parkinson's community will continue to benefit from the amazing services of the Muhammad Ali Parkinson's Center. I will ride 4,000 miles in my 40th year to raise a goal of $40,000 for the MAPC through the Parkinson's Network of Arizona. The money I raise will help fund community education, support groups, and Parkinson's specific fitness classes such as PWR!Moves, Boxing, Music, Voice, and Yoga. My wife Jordan is another special connection I have to the MAPC. She teaches yoga for people with Parkinson's at the MAPC twice a week and also works as an occupational therapist, helping those with Parkinson's to remain as independent as possible for as long as possible.
My cycling goal will be a challenge, trying to keep up an almost 80-mile per week pace for the entire year, while working and taking care of our three young kids. In doing so, however, I know that the challenge of raising such a great sum of money for the MAPC - supporting the people in the Phoenix area who live with this neurological disease and the importance of building community - will be even more rewarding.
How many of my 4,000 miles would you like to support? With my fundraising goal of $40,000, a $10 donation will fund one mile of my endeavor. Follow my progress on Facebook and Instagram @PedalingForParkinsonsAZ where I will communicate my fundraising and cycling efforts. Donate today to keep me pedaling! My family and I, and the MAPC, are truly grateful for your support!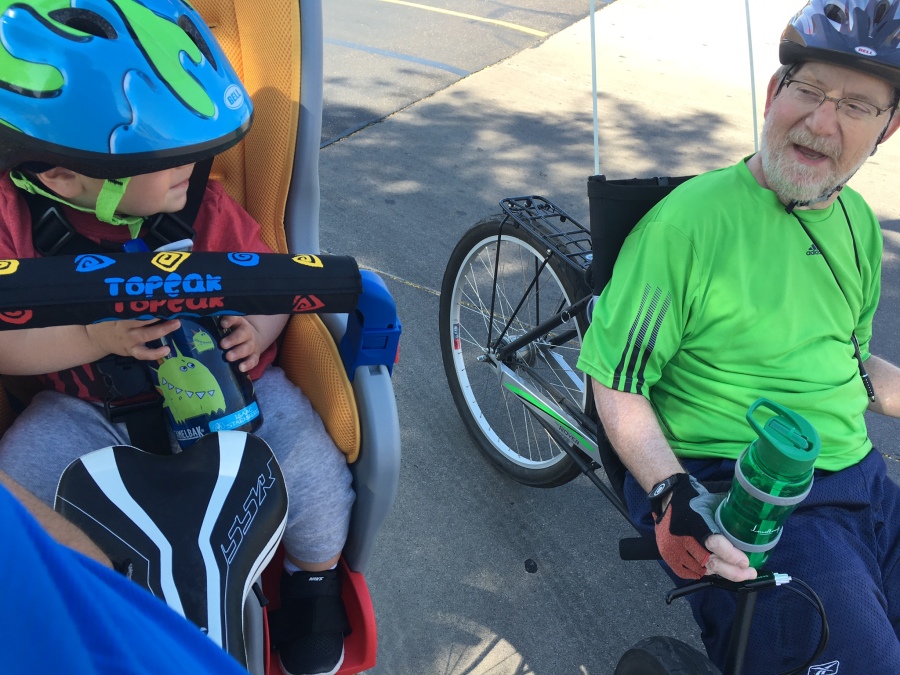 Please email me at pedaling.aaron@gmail.com to be added to our email list for updates throughout this challenge.