Dear friends,
By supporting my first (and likely only) marathon, you will be giving critical support to children/youth in Gaza (specifically to Mohammad, Rama and Ahmad) as well as enabling Donkeysaddle Projects to continue our critical work.
Mohammed, whose 13th birthday is today, is from Jabalia in the north of Gaza Strip. In October, Mohammad was shot in his right knee with live ammunition during the Great Return March, severing an artery and nerve. Without urgent surgery, Mohammed is at risk of losing his leg. The Israeli army has refused multiple permit requests for Mohammed to travel to Jerusalem with his mother for his surgery--Physicians for Human Rights-Israel is doing what they can to pressure the army to grant this permission. Mohammed's surgery in Jerusalem (assuming his permit is granted) will be covered, but the expense of transportation to and from Gaza, as well as food, and accommodation for his mother, is an overwhelming burden on an already desperately poor family. Your marathon contributions will relieve that burden.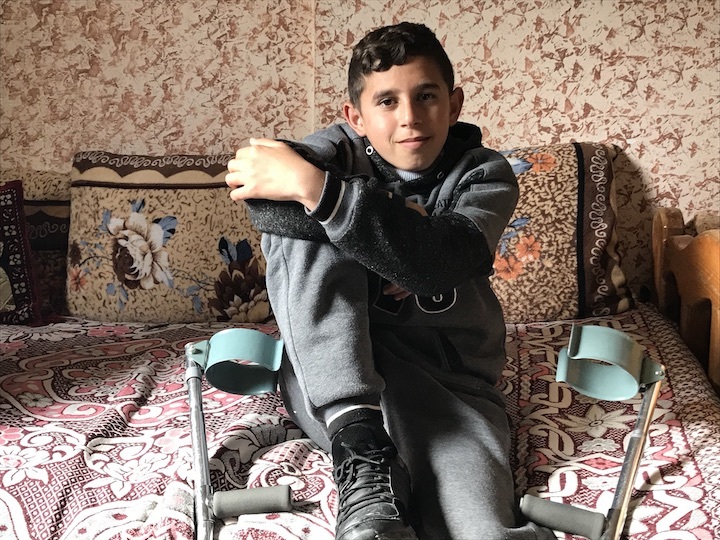 (Mohammed at his home in Jabalia two weeks ago)
Rama, 4-years-old, from Khan Younes refugee camp, has profound hearing loss. Rama was born during the 2014 war. Her parents are not sure if the shelling and explosions she was exposed to at the start of her life damaged her hearing, or if a high fever she suffered shortly thereafter caused the loss.
I have known Rama since she was a baby (and I've known her family for almost 20 years). Rama's parents are unemployed (as is true for such a high percentage of people in Gaza). When they first discovered Rama's hearing loss, many of you donated towards a hearing aid. Now, Rama needs a year's worth of speech therapy–which will cost $4,500. I have already raised $1,250 of that amount, and hope to raise the rest with this marathon!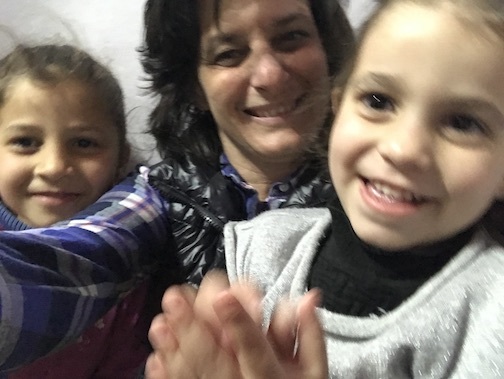 (Rama and Jen taking a selfie last month)
Ahmad is a 16-year-old from Shejayia (in Gaza City) who has lived through unspeakable trauma. His older brother was killed by the Israeli army just before he was born. Then, at the age of 9, shrapnel from an Israeli tank shell penetrated Ahmad's stomach. It was miraculous that he survived the injury; he carries bulbous scarring to this day. Then, in the 2014 war, Ahmad's uncle's home (neighboring his) was bombed by fighter jets, crushing the home, and killing 11 members of Ahmad's family who were inside, including his older sister, his 2-year-old niece Maram and his twin 6-month old nephews, Karam and Kareem. (I first met Ahmad and his family in 2015 while writing this article for the Nation, which details what Ahmad's family endured.) Ahmad's goals are very modest–he wants to complete a course which will train him to repair smartphones. He has already completed the first half of the training, but had to stop due to lack of funds. With $600, Ahmad will be able to complete his training and pursue his goals.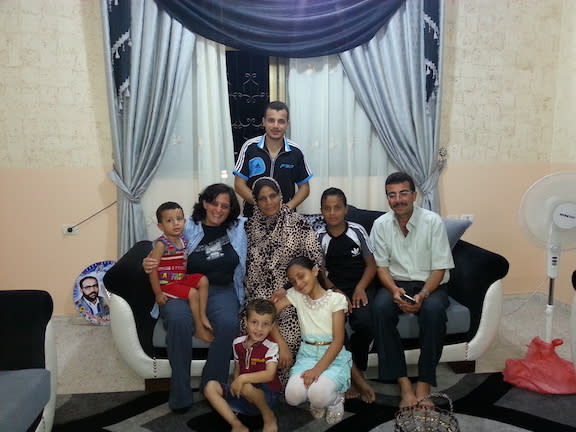 (Jen with Ahmad's family 3 years ago. Ahmad, age 13, is the sitting on the couch between his mother and father with a black and white T-shirt)
In addition to directly supporting Rama's speech therapy and Ahmad's education, your support of my Palestine Marathon run will enable Donkeysaddle Projects to continue our vital work–work that allows me to connect with Ahmad and Rama's families and bring their stories (and so many others) to the world.
Thank you so much for your support!
In solidarity and with gratitude,
Jen Marlowe