This season, my wife Erica and I are supporting the lifesaving work of the Humane Rescue Alliance, who protects and cares for homeless cats, dogs, and other domesticated animals, and helps to prepare them for adoption through needed medical care or behavior training before finding them a family of their own.
Here's how you can help:
Help rescue animals find their new families by pledging a donation for every strike out I get this season. Erica and I are lifelong animal advocates and when we moved to the Washington, DC area, we wanted to stay involved in animal welfare. Rescue, adoption, and humane education are very important to us, as we have six adopted pets of our own, four dogs and two cats. We have seen firsthand the positive impact of the human-animal bond and we believe it's extremely important to share the joy that animals bring with everyone.
We appreciate your support and the good work of the Humane Rescue Alliance so we will be matching every dollar raised through this campaign.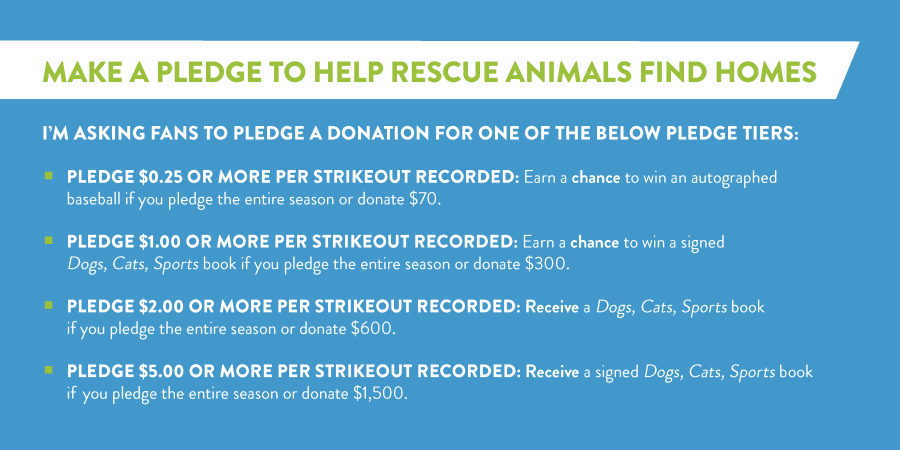 You can customize your pledge or you can also make a one-time donation.
Your support will keep me motivated throughout the season. Together, we can support the lifesaving work of the Humane Rescue Alliance and help rescue animals find homes.
You know how competitive I am! Your support keeps me energized for the whole season.
THANK YOU!
We began supporting the Humane Rescue Alliance in 2016 and were thrilled to find such a caring organization, dedicated to protecting animals and to placing and keeping them with loving homes, here in our nation's capital. Erica joined HRA's Board of Directors to help contribute to the critical and lifesaving work of the organization.
The Humane Rescue Alliance has protected and served the animals of the community for more than 145 years and serves thousands of animals annually. The broad range of programs offered include: rescue and adoption, humane law enforcement, low-cost veterinary services, animal care and control, behavior and training, spay-neuter services, humane education, and many others. The organization is dedicated to ensuring the safety and welfare of all animals, bringing people and animals together, and working with all communities to support these relationships. HRA is based in Washington, DC, the only major urban area in the country that has all animal protection programs and services unified in one organization, making the Humane Rescue Alliance a model for the nation.