PLEASE JOIN ME IN SUPPORTING THE TWIN TO TWIN TRANSFUSION SYNDROME FOUNDATION AT THE NFL COMBINE BY PLEDGING FOR EVERY BENCH PRESS REP I COMPLETE.
---
As I take the next step toward achieving my NFL dream, I have made an important decision to use my performance at the 2019 NFL Combine to support TTTS Foundation, in honor of my wife Brianna, my beautiful daughter Harlee, and her twin Halle who was stillborn.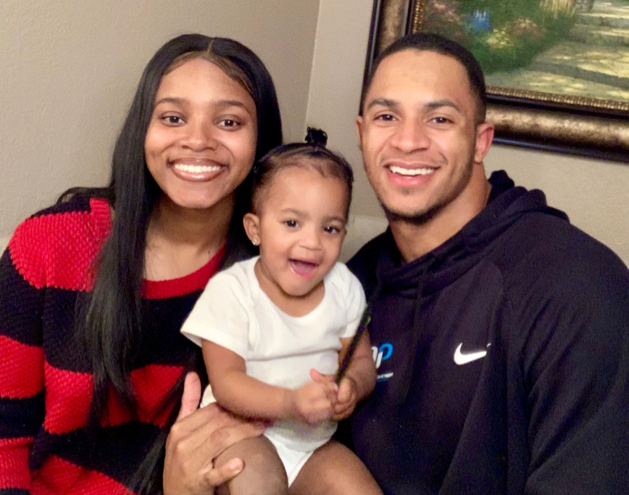 You don't really ever learn about TTTS unless you're pregnant with identical twins. When Brianna was 24 weeks pregnant with our twins, she was diagnosed with stage 3 TTTS. Two days later, she had to go to Cincinnati to have a procedure to try to save both babies, but only one survived. It was obviously a very difficult time for both of us. During this time, Brianna found a Facebook support group for others dealing with TTTS, started by a woman named Mary Slaman-Forsythe. Not only did Mary provide ongoing support for women like Brianna and families like ours, she also created the Twin to Twin Transfusion Syndrome Foundation, which has been working since 1989 to fight the disease and do everything possible to save the lives of future children and end the suffering brought on by this disease. Educational, emotional and sometimes financial support is given to the diagnosed parents to help them understand the syndrome, understand where their babies specifically are in the diagnosis of the syndrome, to create a medical plan of action to care for the babies, and get to treatment as soon as possible. They are helping to empower these families and give them strength and positive encouragement to take action on behalf of their babies.
Mary and TTTS Foundation helped educate us about TTTS, as well as deal with the diagnosis and eventually the loss. We are truly grateful to Mary and the entire team at TTTS Foundation, and I am proud and honored to use this platform to support their amazing and important work.
---
THANK YOU!
Thank you for your support of my campaign and of the Twin to Twin Transfusion Syndrome Foundation. I'll be training extra hard knowing that with your pledges, every rep is more money raised to support families like mine.
Please don't forget to share this campaign and your support on social media (Facebook, twitter, instagram, etc.).
Sincerely,
Johnathan Abram
---
Please also check out the 2019 Pledge It NFL Combine & Pro Day Challenge to see the important causes that fellow soon to be NFL Rookies are supporting through their Combine and Pro Day performances.