I'm Hunter Dozier, outfielder for the Kansas City Royals, and I'm excited to announce that I'm teaming up with Big Brothers Big Sisters Kansas City and Blue Cross Blue Shield Kansas City for a third season of #StepUpBig!
The coronavirus pandemic has separated all of us from our normal support systems. As vaccines continue to roll out and the potential for a return to "normal" is on the horizon, there are still a record number of kids in Kansas City waiting for a Big.
Right now, over 200 children & teens in our community don't have a positive mentor to help ignite their potential. This season, I'm committed to doing something about it.
Join me and #StepUpBig by pledging to donate to Big Brothers Big Sisters for every double I hit this season. Each donation will help Big Brothers Big Sisters match more Little Brothers and Sisters across Kansas City with a positive, caring mentor.
When you make your pledge, you'll be entered to win autographed Royals memorabilia! If you pledge $5 or more per double, you'll also receive this year's exclusive Step Up Big pocket t-shirt.
Note: When you pledge per double, you'll only have to make your pledge once. After you enter your information, your card will only be charged when Hunter hits a double.
HOW YOU CAN HELP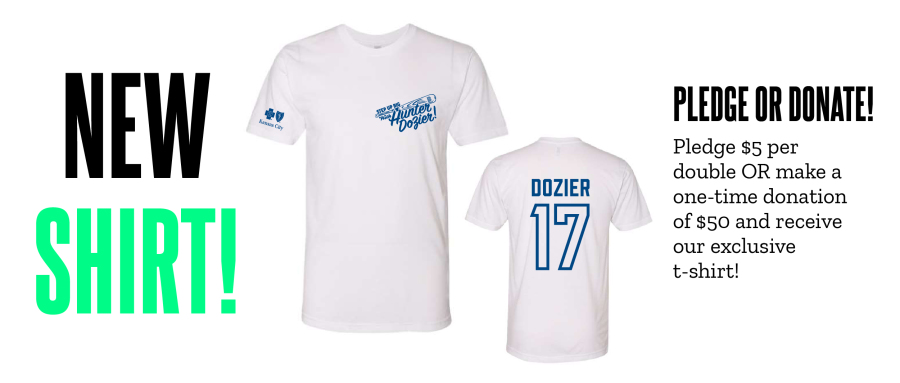 T-shirts will ship within approximately 4 weeks after you make your pledge. If you pledge $5 or more per double, you'll receive a follow-up email to enter your size and shipping information.
BE A BIG
This campaign goes way beyond baseball — it's about empowering the next generation of KC athletes, college graduates, and entrepreneurs. Make a difference today by becoming a Big or making a pledge. If you'd like to learn more about becoming a Big, click here.
Thank you for supporting my cause and Big Brothers Big Sisters of Kansas City! Please don't forget to share this campaign on social media with your friends and family. Thank you for your support!
Sincerely,
Hunter Dozier