PLEASE JOIN ME IN SUPPORTING SUPPORTING SUSAN G. KOMEN AT THE NFL COMBINE BY PLEDGING FOR EVERY INCH OF MY VERTICAL LEAP.
---
Growing up in Baltimore, my brother, sister and I were surrounded by poverty, drugs and violence. It was not an easy childhood, but the one who got us through was my mom. She did everything she could for us. Despite our surroundings, she lived life to the fullest and taught us to be respectful and thankful. She worked long, hard days delivering mail to always make sure we got what we needed. She always found a way, even if it meant she went without eating to make sure we had enough food. Through it all, she was the epitome of class and strength.
When I was thirteen my mom was diagnosed with breast cancer, and when I lost her after a two-year battle, it took my heart away from me for a long time. Taking care of my mom, dealing with her death and moving to Texas took a toll on me and I struggled for a while. I knew that I had a choice. I could use my heartbreak as an excuse, or I could focus on counting my blessings.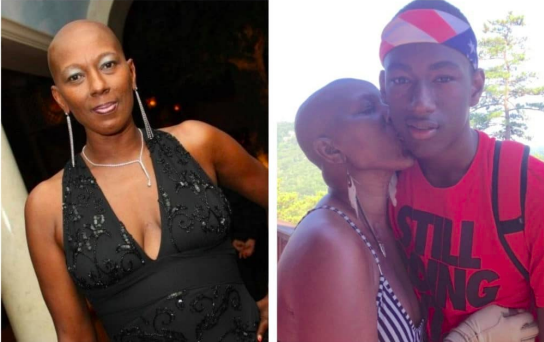 My mother made me strong, and when she passed, I was saved and supported by a village of people who stepped forward to support me. Thanks to the love and support of my uncle, cousins, and extended family, and especially because of the memory and lessons from my mom, I was able to keep my head up and turn things around.
Honoring her is what got me to Iowa State, and now, has me on the verge of living my NFL dream. That is why I'm so proud and humbled to use this platform I've been given, to support the amazing work of Susan G. Komen in her honor. I hope you will consider making your pledge to support Susan G. Komen, as they work to save lives by meeting the most critical needs in our communities and investing in breakthrough research to prevent and cure breast cancer.
---
THANK YOU!
Thank you for your support of my campaign and of Susan G. Komen. I'll be training extra hard and jumping extra high, knowing that with your pledges, every inch is more money raised in the mission to save lives and end breast cancer forever.
Please don't forget to share this campaign and your support on social media (Facebook, twitter, instagram, etc.).
Sincerely,
Hakeem Butler
---
Please also check out the 2019 Pledge It NFL Combine & Pro Day Challenge to see the important causes that fellow soon to be NFL Rookies are supporting through their Combine and Pro Day performances.