Many individuals and families rely upon the programs and services provided by local Philadelphia area nonprofit organizations. These organizations not only change lives, they often provide their programs and services at no cost to the community. Offering these programs and services requires substantial funding from outside sources.
To address this need, the Ertz Family Foundation created the 'Catches for the Community' campaign. The campaign is designed to bring Eagles fans together for an amazing mission: to make a measurable impact in the lives of those living in underserved Philadelphia communities through youth education, sports and family enrichment programs.
I'm personally pledging $500 for every catch I have this season and I'm asking you to join me by making your PLEDGE of any amount. Let's do big things for Philly together!
---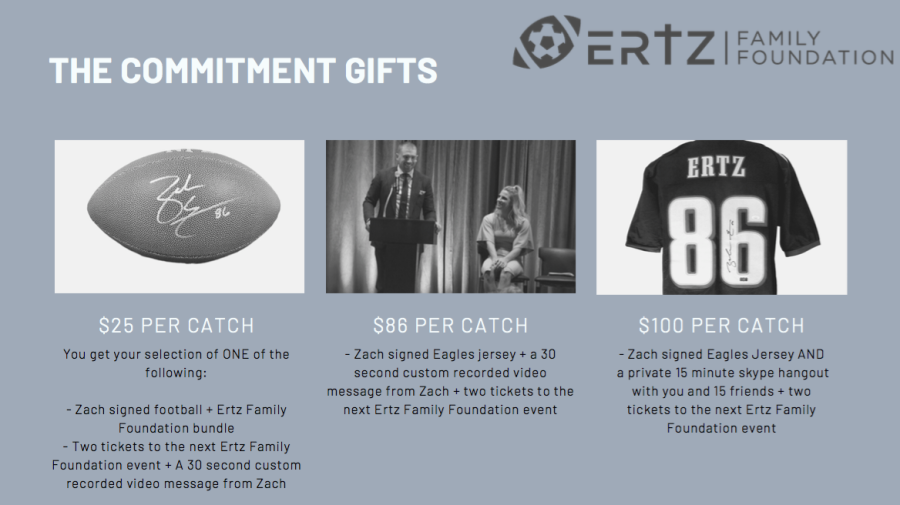 If you make a pledge, regardless of level, you will automatically be invited to an exclusive "fireside chat" with Zach this season over Zoom. You will have a chance to submit questions for Q&A! You also will also be automatically entered in the "grand prize" of a Zach signed jersey!
---
THANK YOU!
Proceeds from the Catches for the Community campaign fund the Ertz Family Foundation's City of Love Fund, a grant-making program for charity organizations to help them continue their great work. In partnership with socially-conscious companies and businesses that have a vested interest in Philadelphia and its residents in need, we can make change – we can make a difference – we can make a better future in the lives of others.
Please join the Ertz Family Foundation in 2020, as we launch this unique corporate social responsibility crowdfunding campaign to support the residents in the city that we love.
- Zach Ertz