Marine Corps Veteran Dustin Canestorp knows the toll the rigors of battle can have on the human psyche. That's why on the somber anniversary of 9/11 he is running continuously for nine hours and eleven minutes to help prevent veteran and first responder suicide with his pledge per mile fundraiser.
Dustin Canestorp served just over 20 years in the U.S. Marine Corps. His illustrious career began as an enlisted Marine and he rose to the rank of Sergeant before receiving a meritorious commissioning to become an officer. Canestorp ultimately achieved the rank of Major before retiring in 2014.
Through his time in combat and as an officer, Canestorp traveled to five different continents, served with countless great men and women, but also lost many friends. When his service ended, he came home with both physical and mental scars. He understands the struggles of post-traumatic stress, and how those that deal with it can wander into the darkness of suicidal thoughts.
"When you come back, and hear about people taking their own lives, it makes me conflicted, it makes me angry," Canestorp explained. "Simultaneously, I've been going through the exact same thing. I deal with a lot of demons. One thing that helps me with my demons is to run."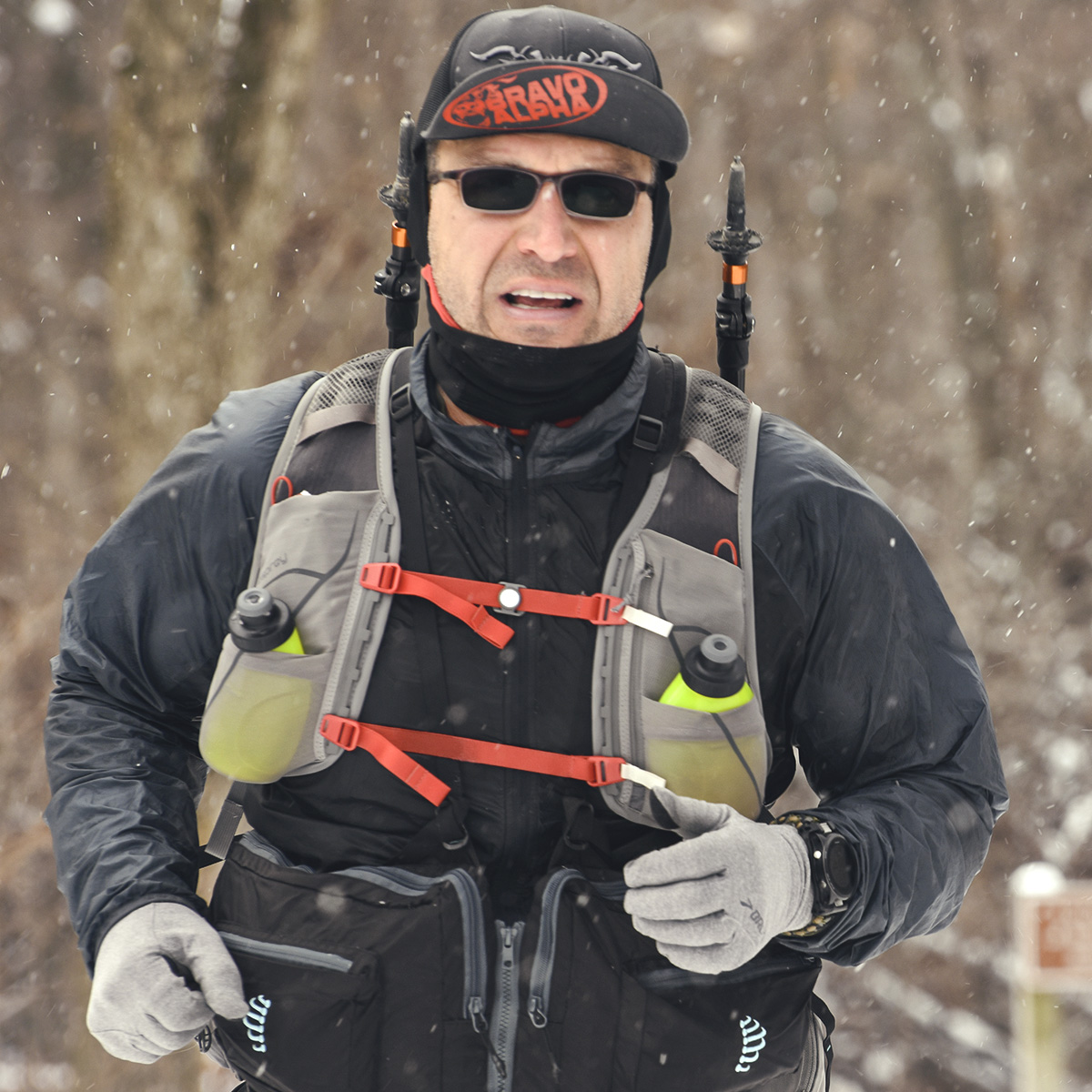 Canestorp didn't always enjoy running. Part of him still doesn't, though he certainly got used to it during his time in the Marines. In 2016, he was recruited to an ultra running group through a friend, a fellow retired service member who directed races for a local ultra running series. "He asked me to do one of his races and I said, 'Forget that. You're talking about running further than a marathon? Who the heck would do that, that sounds stupid!'" Canestorp said with a laugh.
In spite of his trepidation, Canestorp performed his first 100-mile race, two years after retiring from active duty. He was admittedly underprepared and came out of it with blisters covering the entirety of his feet. But the peace he found during the run was undeniable. "I found I was finding and losing myself, helping to process stuff that had been compartmentalized for decades. Like meditation, or praying. It just scratched an itch."
A year later, he was introduced to a nonprofit trail running group that is called Band of Runners (BOR). That introduction led to what he would call his salvation. The BOR group he affiliates with has also given him the kind of camaraderie that he hasn't had since he was back in the Marines. "Ultra runners, we hang out, we're cracking jokes," he said. "It's very tribish, which gives me a similar feel to being in the Corps that I haven't had since I retired." With the friendships he's made, and the therapeutic feeling he gets from the ultra runs, Canestorp knew it had to be a pledge per mile running campaign he'd use as his first fundraiser for Bravo Alpha Initiative (BAI).
BAI is an arm of his non-profit organization Bravo Alpha Foundation. The Bravo Alpha Foundation is a community outreach foundation that focuses on education and creating a positive economic impact. To date, its scholarship program has given out 54 scholarships, and contributed $283,000 in aid to support charitable causes such as Hope for the Warriors, Museum of the Marine, Disabled American Veterans, and other nonprofits. The BAI supports veterans and first responders in their efforts to recover from Post Traumatic Stress and Self-Destructive Actions.
Canestrop felt the approaching 18th anniversary of the 9/11 attacks would be the perfect date to run in honor of veterans and first responders. Those attacks took thousands of innocent lives, left countless surviving first responders with emotional scars, and sent many young men and women to war. That's why Canestorp will undertake his own ultra run on 9/11, for nine hours and eleven minutes straight, with supporters pledging for every mile he runs. To date, Operation Run for Their Lives has raised over $8,000 to benefit Bravo Alpha Initiative.
This is the first fundraiser Canestorp has run on behalf of BAI, and he hopes it is the start of something bigger. He has encouraged people to not only support monetarily, but from September 4th-September 18th, to stream themselves running on Facebook Live and include the #OperationRFTL. The goal is for his mission to grow and, over time, more runners join him to benefit veterans and first responders.
"I didn't always have the guts to come out and say I have these demons, that I struggle with suicidal thoughts," Canestorp said. "The Run for Their Lives, is really me stepping out. It's liberating, but it's also scary. I really hope people join me to walk or run, and that we can grow Bravo Alpha Initiative together."
Share this Story:
Published on September 9, 2020
by Dave Costlow