PLEASE JOIN ME IN SUPPORTING COMMUNITIES IN SCHOOLS OF THOMASVILLE, NC AT MY PRO DAY BY PLEDGING FOR EVERY BENCH PRESS REP I COMPLETE.
---
Communities in Schools of Thomasville is a cause and organization that means so much to me. I grew up in Thomasville, and spent my entire childhood attending Thomasville city schools. I still have family in school there, and my aunt Cathy is a Student Support Specialist at the middle school.
Twenty percent of the population of Thomasville is below the poverty line. 100% of kids in Thomasville Schools qualify for the free lunch program. There are many single parent households who struggle just to put food on the table. Communities in Schools is not only the leading dropout prevention organization in the country, in Thomasville it truly serves as a community of support for the kids and families who need it most, providing not only academic support to students, but emotional and financial support to families. They help families take care of basic needs for their children, like food, glasses, clothes, etc., so they can focus on staying in school and getting their education. They work with teachers to help them understand and meet the needs of students most at risk. They work to build students' confidence by providing important life lessons and experiences.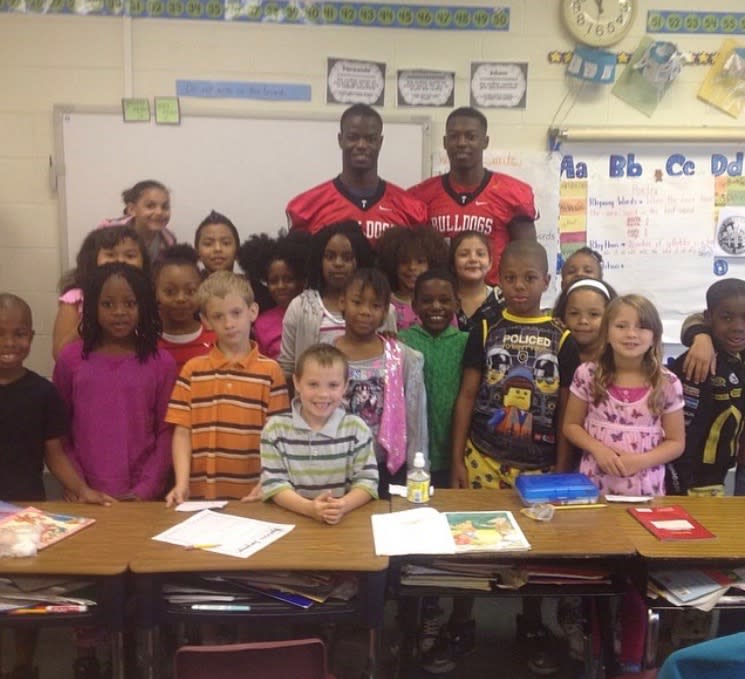 That's why, as I take the next step toward achieving my NFL dream, I have made an important decision to use my performance at my NFL Pro Day to support Communities in Schools of Thomasville. It means the world to me to be able to pay it forward, and give back to the place where I'm from. I always dreamed of being able to give back, and I'm blessed to be able to use this platform to do so. Hopefully, I can be a role model, and my journey can be a continued source of hope and inspiration for all those kids growing up back home.
---
THANK YOU!
Thank you for your support of my campaign and of Communities in Schools of Thomasville. I'll be training extra hard, knowing that with your pledges, every rep is more money raised in the fight to provide much needed support to kids back home.
Please don't forget to share this campaign and your support on social media (Facebook, twitter, instagram, etc.).
Sincerely,
Akeem Davis-Gaither
---
Please also check out the Element Sports 2020 NFL Combine Challenge to see the important causes that my fellow Element NFL Rookies are supporting through their Combine performances.