I'm conquering PTSD from the Malibu Fire to help ACACIA MOYO - WHERE TRADITION MEETS TECHNOLOGY develop sustainable livelihoods for my friends in the Kitengela Maasai community. Please join me to pledge it forward!
Dear Family, Friends, Followers, and Kindred Spirits,
I'm taking on a 70-day foreign language challenge to overcome Post Trauma Syndrome after having my house, livelihood and all my possessions burnt to a crisp in the Woolsey Fire that devastated Southern California. The Fire taught me an important lesson: all you truly own is what is in your head and your heart. I mourned the loss of all my possessions, especially my language learning library. I've learned 7 languages, but only remain fluent in 4. For years I planned to re-learn those I'd forgotten. But the Fire taught me to act now, and I vowed to take on the Add1 Language Challenge.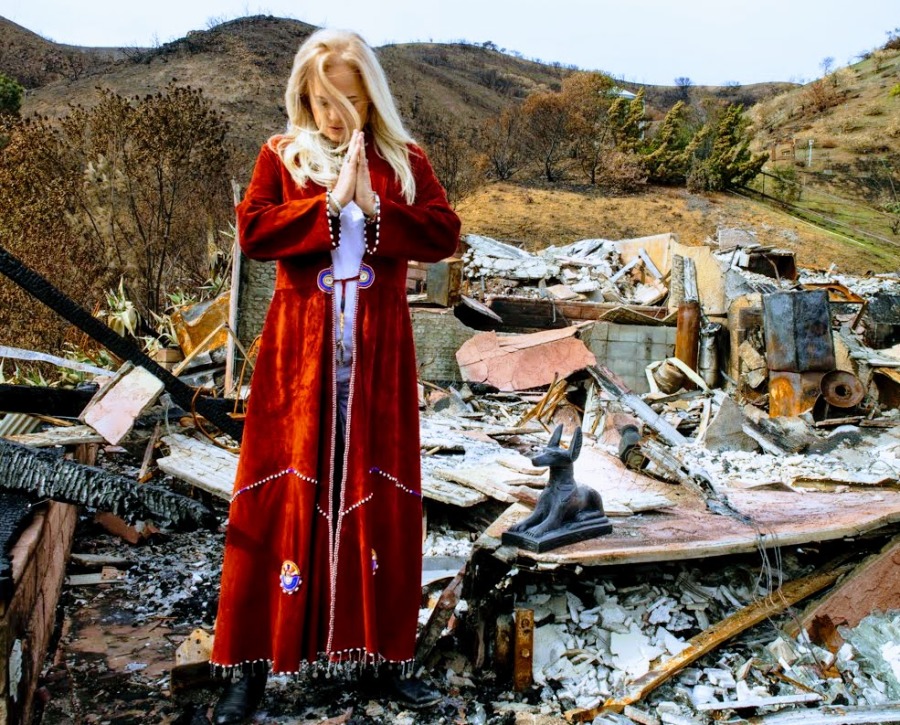 Why learn a language to overcome PTSD? First, if you don't know fire recovery vocabulary like 'debris removal', 'pretreatment septic system', or 'household inventory', you can't think about it. Second, I figure if I can become fluent in Swahili in 90 days, I can rebuild a house in 1080 days - easy. Third, each time you learn a language, you have a chance to see the world from a new perspective.
So, I've signed up for an online Add1 Challenge to learn a foreign language. Expect some drama - by the end of the 70 days, I must hold a 15 minute conversation entirely in Swahili!
Why am I doing a pledge of 70 days? Because, on the eve of my 70th year of life, the Fire sparked in me a resolve to do with my remaining years everything I've wished to do. I'm learning Swahili because with my new venture Nomad Chic, I'll be leading Hip Silvers like me on transformational travel. And, our first trip will be The Golden Age of Safari trip to Kenya with legendary safari guide, Don Young of Newland Tarleton Safaris and to Uganda with innovative safari guide Colin Muhoozi of Africa's Great Explorations.
Thanks to this new initiative, my personal recovery is quickly becoming an afterthought. I've forged a wonderful relationship with my Swahili language partners, and I want to make their dreams come true, too. That is where you come in.
My "Kenyan Sisters" are Maasai women from Kitengela, in Kenya - a community living traditional lives just outside the Nairobi city boundaries and right next to the Nairobi National Game Park. These women have formed the Olmakau Women's Collective which continues the ancient tradition of Maasai beadwork with both traditional and ultra-modern designs . Many are single mothers who are fortunate if they earn $2 a week from the sale of their bead work. Uneducated themselves, their greatest dream is to pay for their children's education. Under the umbrella of the organization ACACIA MOYO - WHERE TRADITION MEETS TECHNOLOGY (www.acaciamoyo.org) - three women have been selected out of hundreds of competitors from around the world to participate in the prestigious 16th International Folk Art Market (IFAM) in Santa Fe, NM this July. I am helping to raise funds to support their incredible journey. Hopefully, they will make enough money there to support their collective for a year and to return to IFAM annually at their own expense. This way, they will generate a stable, sustainable source of income - which is the basic principle on which ACACIA MOYO is founded.
Inspired by their incredible tenacity, I'm donating all funds from this pledge to ACACIA MOYO, which is responsible for funding all their travel arrangements.
THE PLEDGE - YOURS AND MINE
I've pledged to learn enough Swahili grammar and vocabulary in 70 days to hold a 15 minute conversation. I've pledged to study 60 minutes every day and to document my progress with 2 videos a week - one in Swahili showing my progress and one in English to share the behind-the-scenes story.
You can pledge a donation for each day I study for 60 minutes. My goal is study every day or 70 days. For example, if you pledge .50 per day and I study for 70 days, your .50 pledge will equal a $35 donation. This platform will inform you if I've completed the weekly challenge, and you'll also be able to judge for yourself from the videos.
You can support my campaign in two ways:
All the funds the campaign generates will be paid to Acacia Moyo via Creative Visions fundraising platform at NetWorkForGood. I chose Creative Visions because it was founded by Kathy Eldon, a true visionary who lived in Kenya for several years and overcame trauma to build a creative activism platform that attracts thousands of filmmakers, artists, musicians and others who are using various media to raise awareness of issues around the world. When you make your donation through Creative Visions here, you'll get the benefit of a tax credit.
THANK YOU! Remember, if I fail, my friends, the Kitengela Maasai bead-workers, that I want to help may fail to finance their journey to the Santa Fe International Folk Art Market in July.
Thanks for visiting my fundraising page and hopefully you will help me master Swahili for this wonderful cause. Follow my story on Instagram@nomadchic and on www.nomadchictravel.com
Asante sana.
P.S.  Here is my update video on how I'm doing speaking Swahili:
<div class="video-container"><iframe width="500" height="281" src="//www.youtube.com/embed/aP7LZOBQByk" frameborder="0" allowfullscreen=""></iframe></div>
And, here is my English-language video about my learning experience so far:
<div class="video-container"><iframe width="500" height="281" src="//www.youtube.com/embed/mZMtmMjQ8mg" frameborder="0" allowfullscreen=""></iframe></div>
Maasai women wearing traditional beaded jewelry. Each item tells others in the community the woman's status, ie whether she is married or not, how many children she has, what age-group she belongs to and other vital statistics.
Nawashukuru kwa msaada wenu. Mungu awabariki.
Thank you for your support. God bless you.
"I ponder if ever I would meet the traveler,
who has picked up the key on some unknown seashore,
and she would open the door which nobody had cracked open.
-Rabindranath Tagore