UPDATE 12-11-19
We are going to state!!! Let's finish strong, make your final donations and pledges per yard today. Thank you for continuing to support Griffin's efforts to spread awareness and raise funds for childhood cancer research.
Join Griffin's Ground Game as he Rushes to Outrun Childhood Cancer!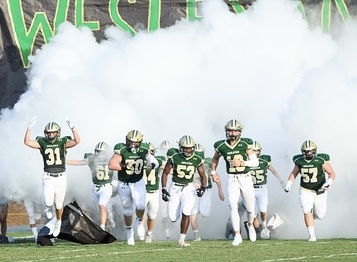 In support of Childhood Cancer Awareness Month, Griffin Caldwell, a 16 year old running back for the Wesleyan Wolves football team, is proud to join Rally Foundation for Childhood Cancer Research (Rally) in the fight against childhood cancer.
Having recently received news that Lex Stolle, a 10 year-old family friend, was diagnosed with cancer (leukemia)- Griffin decided to take action.
Griffin is inviting friends, family, and fans to join his ground game in honor of Lex by pledging a donation for every rushing yard he makes this season. The season is well underway- #31 Griffin Caldwell- has already achieved 325 yards of his 1,000 yard goal.
Every yard Griffin runs during this campaign will directly benefit Rally's mission to empower volunteers across the country to raise awareness and funds to find better treatments with fewer long-term side effects and, ultimately, cures.
Griffin is honored to stand by Lex, one of his brother's best friends, as he battles to outrun childhood cancer. Griffin remains driven and inspired by his friend's faith, courage, and positive attitude.
Please consider making a donation OR a pledge per rushing yard as Griffin Rushes to Outrun Kids' Cancer!
#Bpositive
#TeamLex
#fLEXyourfaith
#RallyFoundation