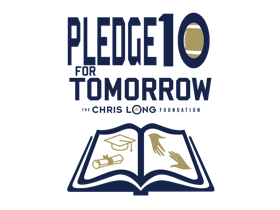 I have made it my mission going forward to support and impact change for Education Equality in Northern California and I'm proud to join my friend Chris Long and his Pledge 10 for Tomorrow initiative.
Through the end of the year, I will match every donation that is made dollar for dollar. I'm asking you to join me by pledging $10 to help ensure youth in Northern California have access to the tools, resources and enrichment activities they need to be successful in school.
All the funds will support my 91Six Charity Programs that are dedicated to forwarding educational opportunities. Together we will make a big difference for Northern California students.
Chris launched the Pledge 10 for Tomorrow tomorrow campaign by pledging the last 10 game checks of the season to promote educational equity and opportunity in the three cities he has played in during his career – Philadelphia, Boston and St. Louis. The 10 game pledge came after he committed the first 6 game checks of the season towards scholarships in his hometown of Charlottesville, VA. We hope you will join us in our commitment to education.
---
JOIN THE PLEDGE
This is your opportunity to accept the challenge and join my pledge to the youth of Northern California. Here's how to Pledge 10 for Tomorrow with me:
If you can't pledge $10, please give what you can. No pledge is too small, or too big. Every little bit helps and if we all make this pledge, we can have a life changing impact for underserved kids in Northern California. I will be personally matching every pledge made to my Pledge 10 campaign, doubling your impact!
---
THANK YOU!
I believe in the adage "Give a man a fish and he eats for a day, TEACH a man to fish and he eats for life" and it is this approach that we are taking to ensure that all children receive equal education opportunities. This approach will allow us to positively impact generations of families that will realize the benefits of strong educational foundations. Thank you for joining us in this effort!
- Arik Armstead
---
Follow the Pledge 10 for Tomorrow Challenge and see how Northern California is stacking up here.