Little Bee is a very energetic and smiling 5-year-old girl who loves music, story time, and exploring. She likes to be on the move and cheers on her mom during their ski, bike or run workouts by asking for more at each break. Little Bee probably can't wait to go that fast by herself! But Little Bee is a perinatal stroke survivor, and as a result will need lots of help to learn how to run or ski, among others. Unfortunately, those are not the only areas in which she will need help. Her stroke left her with considerable damage in various parts of her brain. She has cortical visual impairment (CVI), which despite being the leading cause of visual impairment in children in developed countries, is poorly understood, even by health and education professionals. She also has complex communication needs as she cannot talk yet and relays mostly in hand signing. This can be a bit challenging due to her cerebral palsy and vision impairment. But all that is not stopping her from understanding two spoken languages at home (and now successfully added English as a third one at school!), constantly moving around, asking people to sing a song, read a book, go outside, play choo-choo train or a chase game. And since learning to walk independently last year, she now deeply enjoys hiking!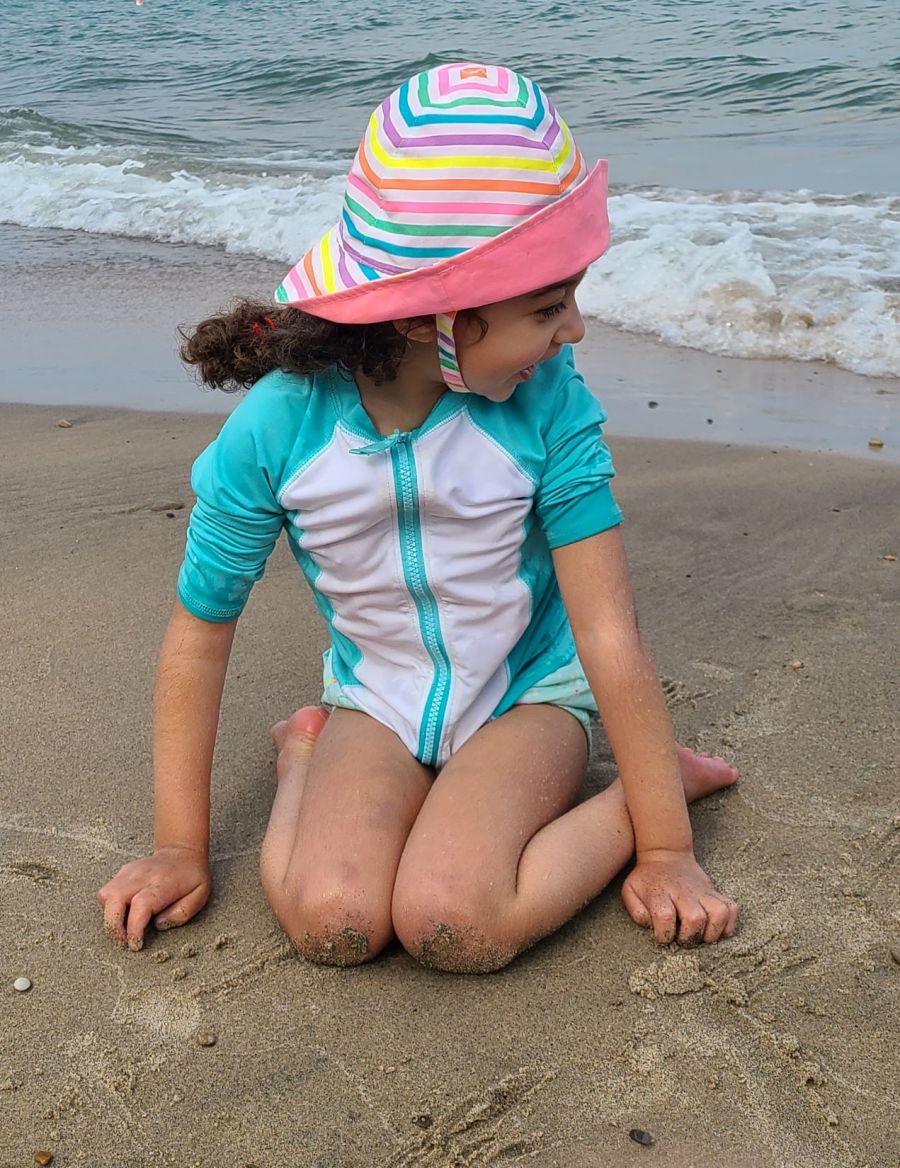 As her mom, I have been overwhelmed by how energetic and determined she is, so I can't help but be the same and give 200% back to her. I set up the goal of working out or exploring with her by my side, to reach up to 223 miles this year. I'll be either dragging or pushing over 50 lbs. of child and trailer/jogger or go on hikes together to raise funds to help her with her rehabilitation and provide her with the best adapted equipment and resources.
Last year, the challenge #222milesIn2022 was born and our Team Little Bee successfully completed it! We ended up going way over 300 miles and for me it was a year of firsts: competed in running races for the first time (which I dared to repeat 6 times) and tried a mini triathlon! All with my daughter in tow. I had DIYed her bike trailer so it could be used as a ski sleigh for our ski adventures but also as an all-terrain hiking trailer and found out it was great to run hands free too! It got me hoping I could also inspire more families with disabled kids to use such a system to enjoy the outdoors in any season.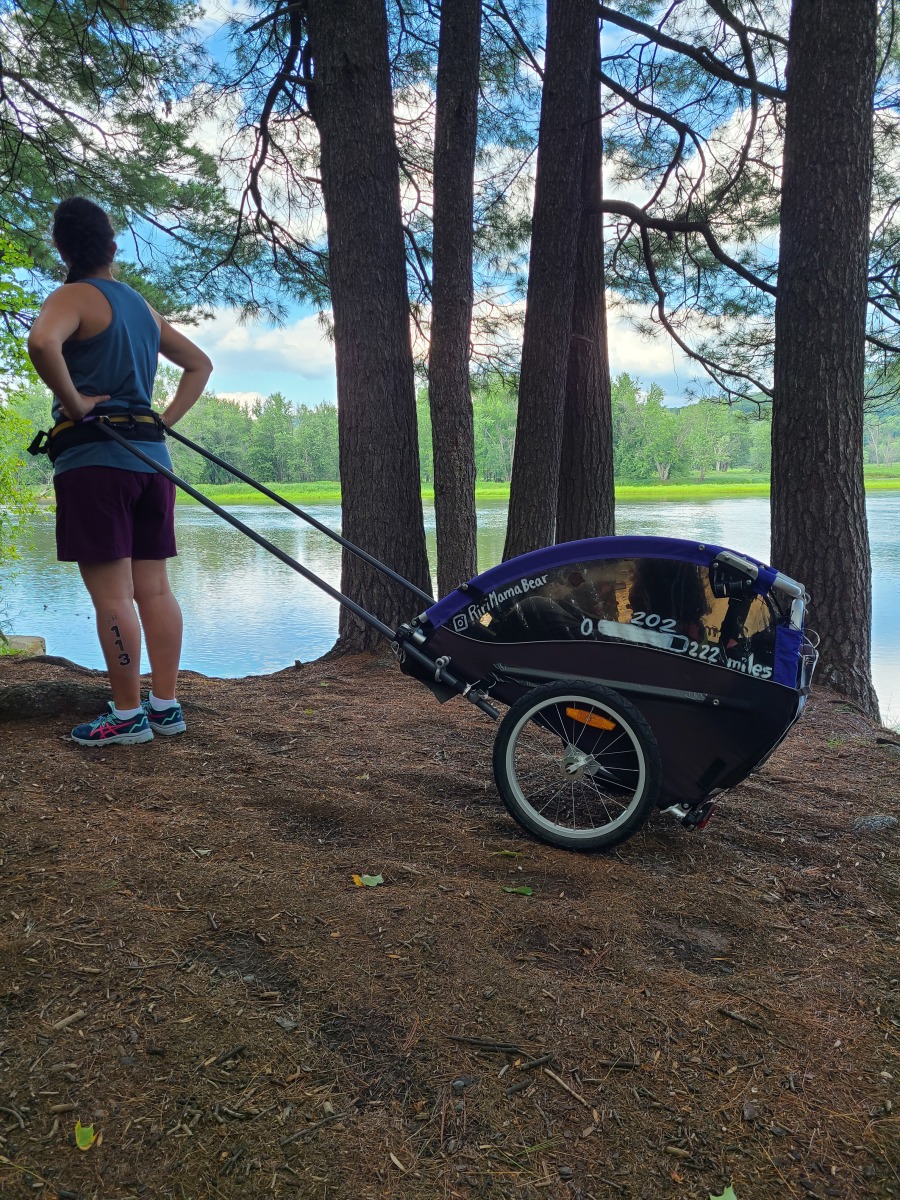 In 2022 we raised a bit under $7000, which covered 3 Anat Baniel Neuromovement intensives, 2 Retinal Neuromodulation consults at the Mind-Eye Institute and a consult with a podiatrist specialized in children with cerebral palsy. Our dear Little Bee proved us once again that it was the best investment ever, comforting us that we are on the right track with our choices of therapies. Some of the biggest moments included learning reciprocal crawling in February 2022 and fully unsupported, independent walking during the fillowing summer (YES you read that right!). In addition, she started walking up the stairs with support and pedaling a trike independently. She proved us how fast she was at learning to use an Alternative and Augmentative Communication (AAC) speech generating device. I could go on and on about all last year's first times: handing objects, humming songs, playing ball back and forth… So we are really hoping to be able to keep up offering her all this support as she grows.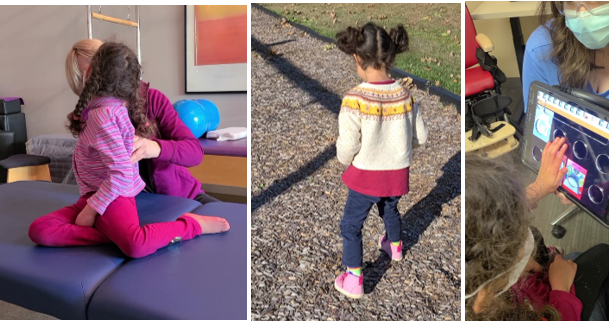 It takes a village to raise a child (which might rather look like a full city for Little Bee!) and for a child with very specific needs, that could mean reaching to specialists all over the country. We have identified and started working with some professionals who are, to our eyes, the most suitable to help her learn to use her brain in different ways. Unfortunately, it comes with a high cost as it implies not only travel but also insurance doesn't recognize certain rehabilitation modalities despite strong evidence that they work. Other times they won't cover because the provider is out of state or just because it's not in their policy. You can be part of her village too and help us cover all these out of pocket expenses, trips, accommodation, and specialized equipment like a communication device suitable for her cortical visual impairment.
This year I also took the difficult decision to switch careers and start a 4-year training to become a Feldenkrais practitioner. This movement method accesses the nervous system and relies on the concept of neuroplasticity (the brain's ability to evolve and reorganize itself in new ways, all throughout life). Little Bee has greatly benefited from an extension of this method, called Anat Baniel Neuromovement for which we have been traveling over the past two years. Practitioners are scarce and most likely Little Bee will need services all throughout her life to move beyond her stroke-induced limitations. We have witnessed how powerful this method is and I not only want to be able to help my daughter myself so we can reduce our trips but I now feel like I must help bringing these wonderful modalities to other families. It will add up tremendously on our bills this year but I am convinced it is an investment that goes well beyond our family.
The goal is then to reach $46K to cover Little Bee's rehabilitation-related expenses of 2023 and tuition to become a Feldenkrais practitioner myself.
Many, many thanks to you all for embarking on this adventure with us!
FAQ
Q: Can I pledge less than a dollar per mile? Giving $223 or more is too much for me. A: Absolutely! Some have pledged 10c per mile last year. Also, FYI pledges convert into donations monthly. But you could also consider making a flat, one-time donation of a lesser amount.
Q: Can I make a one-time donation instead of monthly ones? A: Yes, flat donations (of any amount by the way) are also a wonderful way to help! This way we benefit from funds readily available to us
Q: What happens when I make a pledge? A: When you pledge it is like you make a "bet" on our mileage. You will get a confirmation email from Pledge It with details. Then pledges will convert to donations at the end of each month, after the miles completed have been submitted, and an email will be sent letting you know your credit card will be processed. You can then maintain your pledge or cancel anytime.
Q: How can I follow the progress and miles completed? You can follow along on Little Bee's mom Instagram account @RiriMamaBear to get periodic updates on our adventures. Follow #MilesForLittleBee and #223milesIn2023 to get updates specifically on our mileage and the progress of the fundraiser. Our mileage will also be submitted monthly on this website.
Q: What exactly is the money going to be for? A: Little Bee has a tremendous potential and we have found a movement modality called the Anat Baniel Neuromovement Method which has been very effective unleashing it. We started using this alternative rehabilitation approach almost two years ago and we've seen wonderful progress! Unfortunately, while it has proven to be incredibly beneficial, it is not covered by insurance and must be paid out of pocket. Furthermore, we have no providers in the state we live in, so we have to travel to Illinois several times a year for intensives. Three Neuromovement intensives add up to $4,200.
We also discovered the Mind-Eye Institute in the Chicago area in 2021 and have been impressed with the results. They are an optometry practice specialized on neuro-optometric rehabilitation through one-of-a- kind treatments. Using prescriptive eyeglasses, colored filters, prism lenses or other optometric interventions, they selectively stimulate the brain with light dispersed on the retina. Their treatments helped our daughter to be more aware of her environment while outside (which is a very complex environment for her), overcome a very distressing sound sensitivity, improve her spatial awareness and her receptive language skyrocketed! Sadly, our insurance does not cover expenses for providers out of state, so we must pay these services out of pocket too. Two consults at the Mind-Eye Institute add up to $2,680.
We are also hoping to acquire a communication device for her but very shockingly, our insurance doesn't cover ANY type of speech generating device. Her speech language pathologists specialized in Alternative and Augmentative Communication recommended and we have tested a device that seems suitable to her Cortical Visual Impairment and fine motor needs as well as the languages we use. Such an AAC device (a IL101 by Tobii Dynavox TD-I110) costs $4,974.
Little Bee needs ankle-foot orthotics to help her attain a better posture and avoid deformities, especially on her right foot. However, we haven't been fully satisfied with our local clinic's orthotics services. We've been recommended a private clinic in New York City that truly performs customized braces. Again, we will need to cover, the services and the orthoses as this is out of our state. Consult and custom-made orthoses are estimated to reach $2,500. UPDATE: we renounced to this for 2023 due to lack of funds but we got lucky enough to be reassigned with another orthotic specialist in our clinic who did a great job and was covered by insurance!
The tuition for the training program to become myself a Feldenkrais practitioner is $21,600. We won't be paying all this tuition at once, it'll be split into yearly payments, but I still want to include the whole cost here.
Finally we estimate lodging and trip costs to add up to $7,300.
Q: What else can I do to help? A: Sharing! You could also cheer us on by working out towards the same goal of 223 miles in 2023. Hiking, skiing, biking, running, swimming… whatever suits you. You could take a picture and use the hashtags #223milesIn2023 and #MilesForLittleBee and tag us on Instagram so we see you! If you have alternative fundraiser ideas/platforms that we could benefit from, please let us know.
Q: Can I take a picture of you guys to share? A: Thanks a lot for helping spreading the word!  However, we would like to ask you not to take Little Bee's full face nor to share her name online. I hope you understand!