Little Bee is a very energetic and smiling 3 year old girl who loves music, story time and going places. She likes to ride on her trailer and cheers on her mom during her ski, hike and bike workouts by asking for more at each break. She probably can't wait to go that fast by herself! But Little Bee is a perinatal stroke survivor and as a result she will need lots of help to learn to walk, run, ski or ride a bike. Unfortunately, that is not the only area in which she will need help. Her stroke also left her with considerable damage in various parts of her brain. She has cortical visual impairment (CVI), which despite being the leading cause of visual impairment in children in developed countries, is poorly understood, even by health and education professionals. She also has complex communication needs (CCN) as she cannot talk yet and relying in hand signing is a bit challenging due to her cerebral palsy. But all that is not stopping her from understanding 2 languages at home (and hopefully a third one when she will go to school!), constantly moving around in her own ways and ask people to sing a song, read a book, go outside or play a chase game.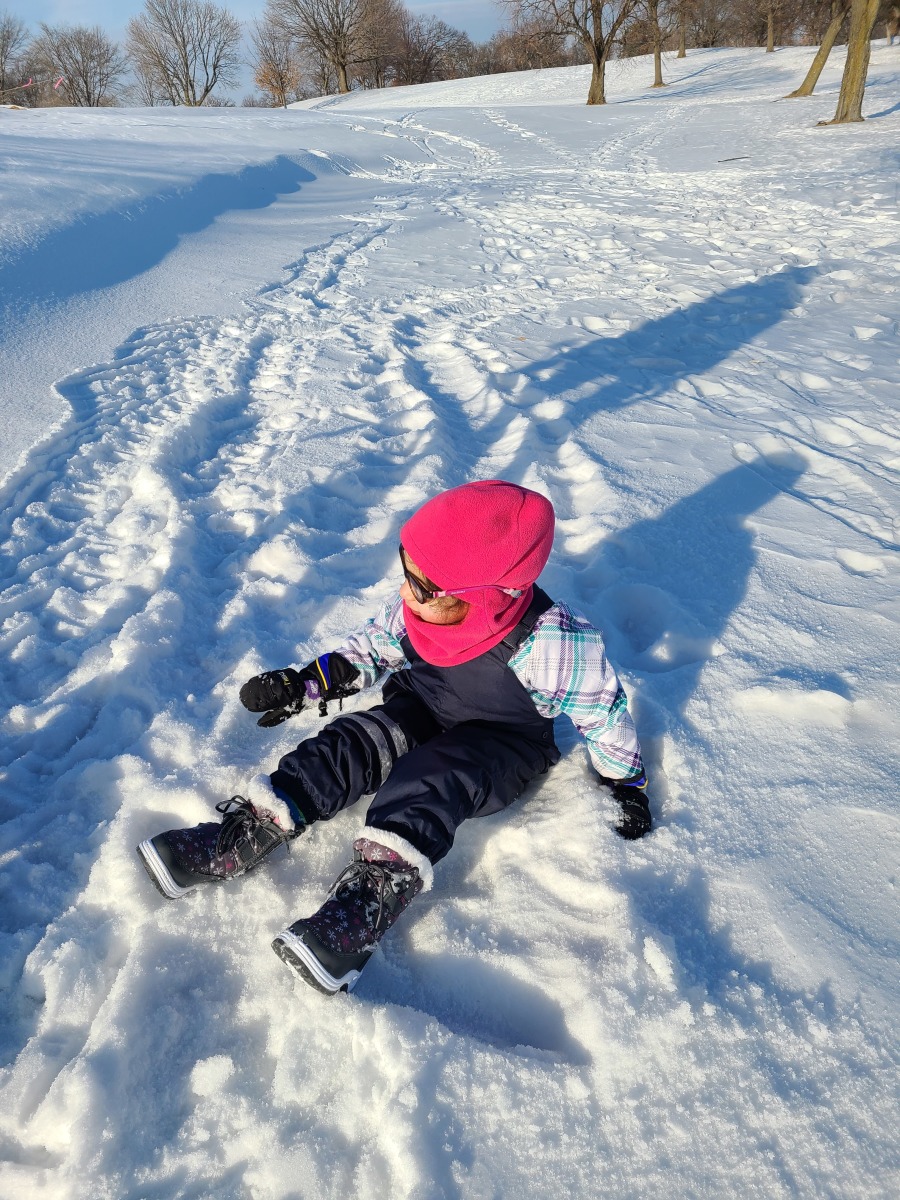 As her mom, I have been overwhelmed by how energetic and determined she is, so I can't help but be the same and give 200% back to her. I set up the goal of taking her places up to 222 miles this year, dragging over 50 lbs. of child and trailer to raise funds to help her in her rehabilitation and provide her with the best adapted equipment and resources. I have never been part of any cycling, hiking or skiing competition/challenge before, and I probably don't have the best equipment (everything is cheap second hand and the ski sleigh/hiking adaptive trailer is our bike trailer that I DIYed!) but I'm sure we will have the best adventures and meet wonderful people along the way!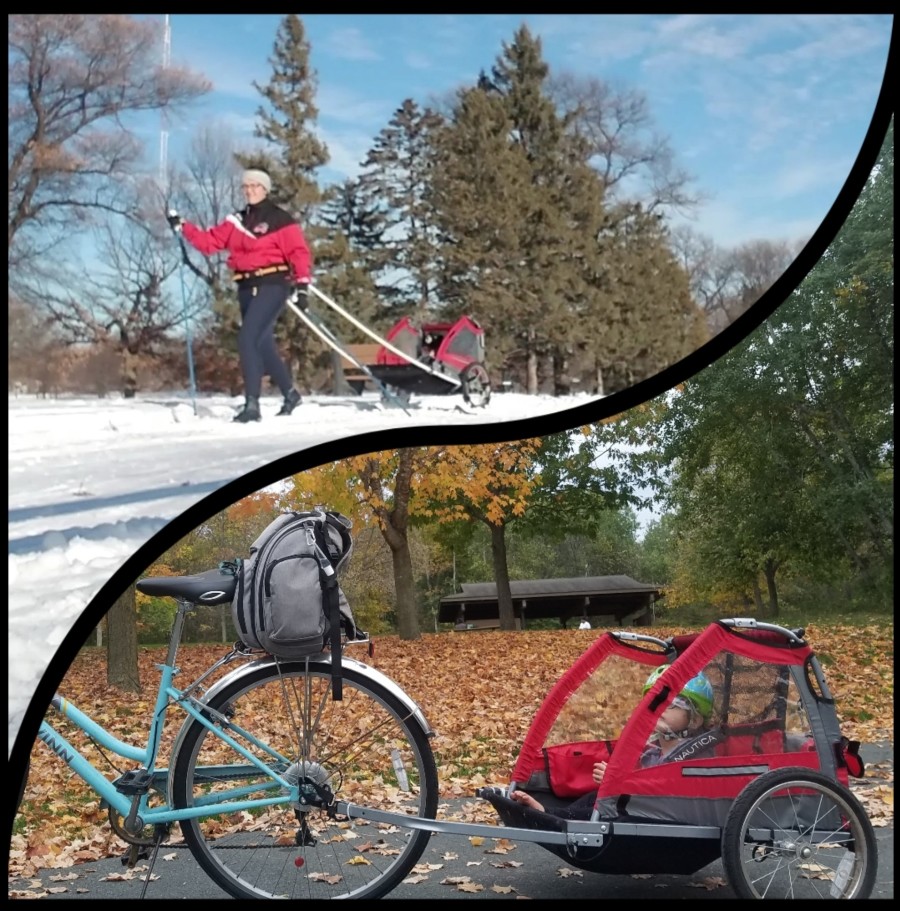 It takes a village to raise a child (which might rather look like a full city for Little Bee!) and for a child with very specific needs, that could mean working with specialists all over the country. So we are planning a number of trips east to west to hopefully help her learn to use her brain in new ways. You can be part of her village too by helping us cover the expenses of the services that are not covered by insurance, trips and accommodation, equipment as well as a communication device suitable for her cortical visual impairment.
The goal is to reach $22K to cover our rehabilitation-related expenses of 2022.
UPDATE Little Bee STARTED WALKING INDEPENDENTLY as of August 2022!! It tells us we're headed in the right direction with her therapy!
We are extremely grateful you are here!
FAQ
Q: Can I pledge less than a dollar per mile? Giving $222 is too much for me. A: Absolutely! FYI pledges convert into donations monthly. But you could also consider making a flat, one time donation.
Q: I imagine the costs you're facing can keep accumulating, I would like to help with some readily available funds, can I do that? A: Yes, flat donations (of any amount by the way) are also a wonderful way to help!
Q: What happens when I make a pledge? A: You will get a confirmation email from Pledge It with details. Then pledges will convert to donations at the end of each month, after the miles completed have been submitted, and an email will be sent letting you know your credit card will be processed. You can follow along on Little Bee's mom Instagram account @RiriMamaBear to get periodic updates. Follow #MilesForLittleBee and #222milesIn2022 to get updates specifically on our mileage and the progress of the fundraiser.
Q: What exactly is the money going to be for? A: Little Bee has a tremendous potential and we have found that the Anat Baniel Method helps her to unleash it. We started using this alternative rehabilitation approach almost a year ago and we've seen wonderful progress! Like moving around more and in a variety of ways, tall kneeling, moving over obstacles, use a wide range of sitting positions, knee walking and pull to standing! Unfortunately, while this form of rehabilitation has proven to be incredibly beneficial, it is not covered by insurance and must be paid out of pocket. Furthermore, we have no providers in the state we live in, so we have to travel to Illinois several times a year for intensives.
We also discovered the Mind-Eye Institute in the Chicago area this past year and have been impressed with the results. They are an optometry practice specialized on neuro-optometric rehabilitation through one-of-a- kind treatments. Using prescriptive eyeglasses, colored filters, prism lenses or other optometric interventions, they selectively stimulate the brain with light dispersed on the retina. Their treatments helped our daughter to be more aware of her environment while outside (which is a very complex environment for her), overcome a very distressing sound sensitivity, improve her spatial awareness and her receptive language skyrocketed! Sadly, our insurance does not cover expenses for providers out of state, so we must pay these services out of pocket too.
Another expense would be towards a workshop on Alternative and Augmentative Communication (AAC) for children with Cortical Visual Impairment in California. The course will be provided by experts from a unique organization which provides education for children in the exact situation as Little Bee. Furthermore, they will be hosting Dr. Christine Roman-Lantzy, an expert in the field of CVI, whose assessments, interventions and comprehension of the disability have became internationally renowned.
We are also hoping to acquire a communication device for her (high tech AAC). We are still unsure of the insurance coverage of such a system because it might need extensive customization so it is accessible to her with her visual impairment.
It is now clear that Little Bee will need ankle-foot orthotics to help her attain a better posture, avoid deformities and learn to walk. However, prefabricated orthoses with minimal customization have became the norm, but those cannot provide optimum alignment and function on an individual basis. We've been recommended a private clinic in New York City that truly creates customized braces. Again, we will need to cover the trip, the services and the orthoses as this is out of our state.
Q: What else can I do to help? A: You could also cheer on us by working out towards the same goal of 222 miles in 2022. Hiking, biking, running, swimming… whatever suits you. You could take a picture and use the hashtags #222milesIn2022 and #MilesForLittleBee on Instagram. And sharing of course! See below.
Q: Can I help you sharing about this? A: Yes please! We would appreciate a lot! The only thing is that we value a lot our privacy online so please feel free to share our story, this site or IG account @RiriMamaBear but without linking to real names or full face pictures. Thanks for your help and understanding!