I'm thrilled to announce the return of my BIG TACKLES campaign, which supports area youth and Big Brothers Big Sisters Twin Cities.
Together with your pledge, every tackle I make during the 2020 season provides financial support to help kids facing adversity reach their potential. Last year, we raised over $72,000 – and I'm expecting 2020 to be an even BIGGER year on and off the field!
–Harrison Smith #22
*NFL.com is the source for tackle totals.
---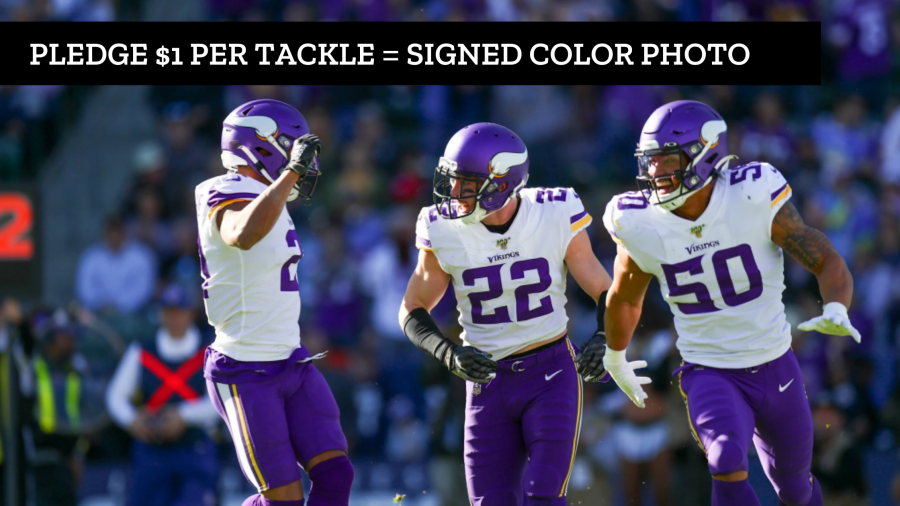 RECEIVE A SIGNED 8x10 PHOTO: Pledge $1 per tackle to the Big Tackles campaign and you will receive a signed Harrison Smith 8X10 color photo. Photo must be picked up FanHQ, located within Ridgedale Mall. Optional shipping for $5.
---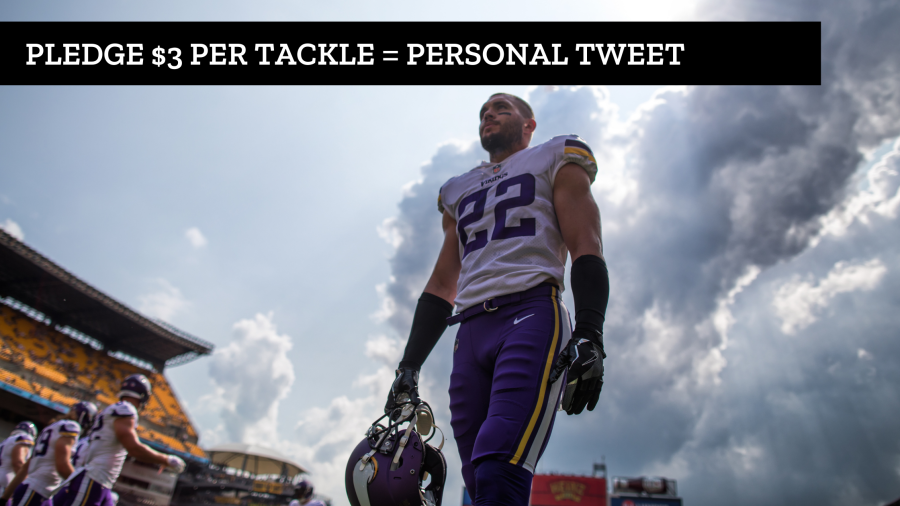 RECEIVE A PERSONAL TWEET FROM HARRISON: Pledge $3 per tackle or make a one-time $350 gift to the Big Tackles campaign and receive a shout out from Harrison from his Twitter account.
---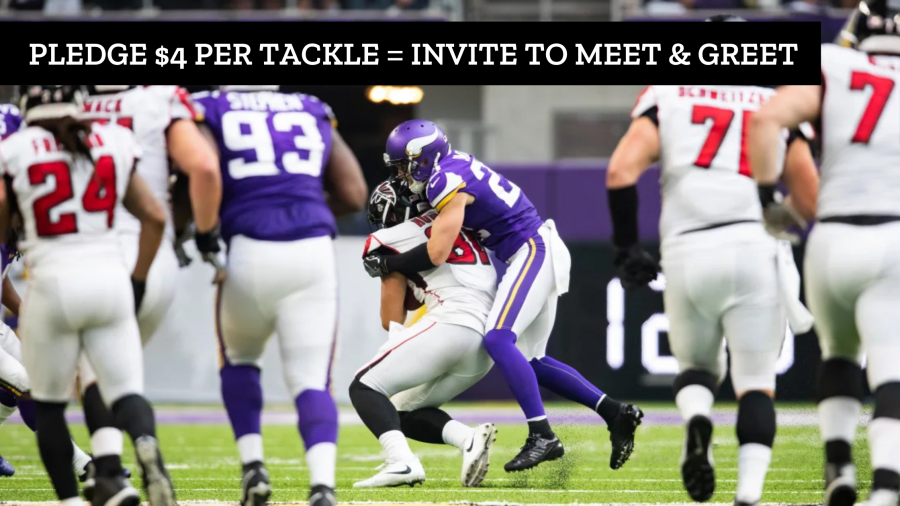 RECEIVE AN INVITE TO A MEET & GREET WITH HARRISON SMITH: Pledge $4 per tackle or make a one-time $500 gift to the Big Tackles campaign and you will receive an invitation to a meet & greet and autograph session with Harrison Smith. Meet and greet will take place when it is safe to do so, possible Summer 2021). You will also receive a personal tweet from Harrison and a signed color photo.
---
BECOME A BIG TACKLES AMBASSADOR:
You can inspire others in your network to give to Big Tackles by launching your own fundraiser!
**How It Works: **Click here to become a Big Tackles Ambassador who advocates to help us reach our campaign goal and achieve our mission. Fundraisers receive credit on the Fundraiser Leaderboard every time someone gives to Big Tackles through their fundraiser link. Big Tackles Ambassadors will be recognized on Pledge It as they rise up the Fundraiser Leaderboard.
The Steps Are Easy:
Create a personal fundraising profile and invite your friends and family to make pledges to Big Tackles.
Personalize a message of why Big Tackles and supporting mentoring is important to you.
Make your own pledge, first! It is much easier to ask others to support if you have made a gift yourself.
Share your custom URL with your friends and family to make their own pledge! You can share via email, text, Facebook, Twitter, or other social channels. Making personal asks are much more successful. You can also share progress of the campaign on your social channels, so check back to the Fundraiser Leaderboard to track where you're ranking!
---
WHO YOU WILL HELP
Our mission is urgent. In 2019, Big Brothers Big Sisters sharpened our focus to better meet the needs of our community. Nearly 90% of the kids we serve come from low income households, and three-quarters are from non-two-parent households. Minnesota has one of the largest equity and opportunity gaps in the United States for youth of color.
Through mentoring and other youth programs, we continue to tackle the societal issues that limit the potential in tens of thousands of youth in our five-county area. Nearly all of the youth enrolled in BBBS in 2019 improved or maintained their grades and 89% of the high school seniors graduated on time.
But the waiting list for a mentor is long, especially for Little Brothers. Your support of Big Tackles will help Big Brothers Big Sisters Twin Cities match more youth and help them on the path to a life-changing friendship.
---
THANK YOU FROM THE HITMAN
This campaign goes beyond football, it's about giving to those who truly need and deserve our support. Please join me by making a pledge; you can also invest your time by becoming a Big— please click here to sign up.
If you can't make a pledge, please show your support by sharing the campaign on social media.
Thanks for your support of Big Tackles, and of Big Brothers Big Sisters.
Sincerely,
Harrison Smith #22
---
A BIG THANK YOU TO OUR PARTNERS!