I'm personally pledging $500 for every catch I have this season and I'm asking you to join me by making your PLEDGE of any amount. Let's do big things for Philly together!
---
Since we first began dating in college, Julie and I dreamed of one day creating an organization that could help people in need. We've both seen the way that sports can bring people together, and we also recognize that with our respective platforms, we can do even more. That's why we launched the Ertz Family Foundation, with the mission of transforming lives through faith, hope and love.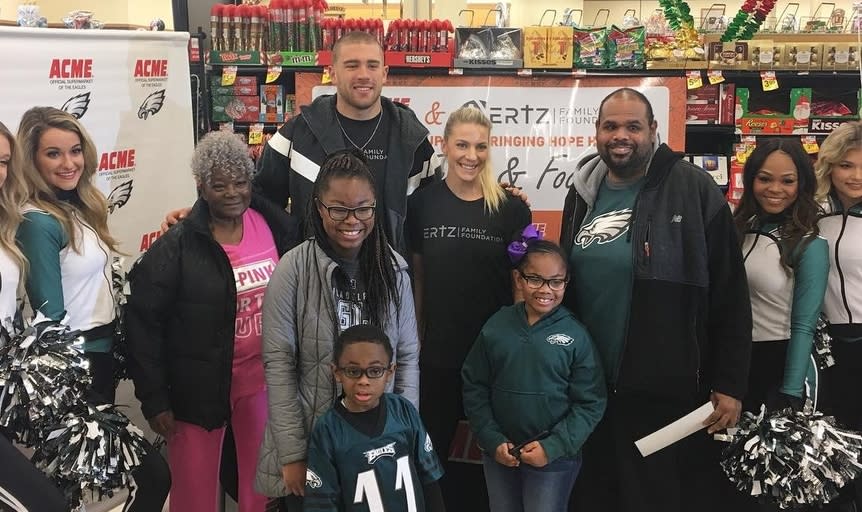 Last season, with our partner Chegg, we launched our first Catches for Community campaign to give fans and supporters a chance to join our family in giving back. With your pledges and my 116 receptions we raised $20K for the community. This year we're back with Catches for Kids, and we're upping the stakes!
We've been working hard on something really exciting right here in Philadelphia and will have a very special project announcement coming soon. Our goal for this year is to raise $250,000 by the end of the season. I'm kicking it off with a $500/catch pledge, and Chegg is back in, but we need your help to make this a reality. No pledge is two big or too small. Every little bit helps. Let's do big things for the youth of Philly together!
---
FUNDRAISE FOR THIS CAMPAIGN & BECOME A CATCHES FOR KIDS CHAMPION
When you become a fundraiser for this campaign, you can have an even bigger impact. Get your own link to the campaign, send it out to your friends and family, and watch your name rise up the fundraiser leaderboard. The top 3 fundraisers will get a personal twitter shout out from me naming them a Catches for Kids Champion, as well as a signed Zach and Julie Ertz Jersey!
---
THANK YOU!
Thank you for your continued support, and for supporting my Catches for Kids campaign. We truly appreciate your kindness and generosity.
- Zach Ertz