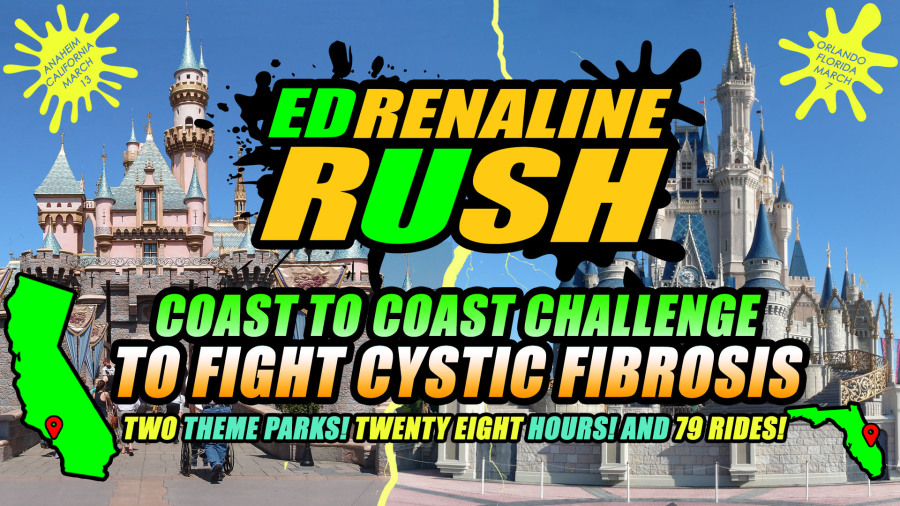 Hey all!
I'm John – a high school teacher and instructional coach based out of Arlington, Virginia. Last summer I wrote a book called EDrenaline Rush about how theme parks can inspire classroom teachers to change the game in our schools. Close your eyes and think of that feeling of the last time you visited a theme park. The sights! The sounds! The smells! Everywhere you turn, the atmosphere is electric! So what if going to school captured these same thrills and excitement? Could everyday classroom activities elicit the same sense of exhilaration you feel when throwing your hands in the air on a roller coaster? And how much more would our students learn if they arrived to class FIRED UP to dive into new content with the same spirit of joy and wonder that they bring to meeting their favorite costumed character?
I'm a firm believer in the belief that when you step into a world where "magic" is everywhere – it's hard not to get excited. And that enthusiasm is infectious to the point where you really can start to push yourself "to infinity and beyond." Because, as Walt Disney once so eloquently observed: "It's kind of fun to do the impossible."
So here's my chance to put my money where my mouth is. And I'm inviting y'all to join in the fun to support an amazing cause!
The Plan:
By a scheduling miracle, I just so happened to find myself with a weekend off of work in early March, and so I'm headed to Orlando, Florida to spend a day with a friend making our way through the Magic Kingdom. And by equally dumb luck and perfect timing, exactly one week later on Saturday, March 14, I'm scheduled to present an hour-long session at this year's ASCD Empower 20 conference in Los Angeles, California – about 45 minutes from Disneyland.
Naturally, I can't pass up the opportunity to hit up twin theme parks on opposite coasts in a single week's time. And my plan is to arrive from the moment the rope drops at each park's opening and stay until the absolute end of the night at each location. Soooooooo…
*******For each attraction I'm able to ride at EITHER Disney theme park on opposite ends of the country in a single week – I'm pledging ten bucks of my own money to fight Cystic Fibrosis. I'll be documenting the entire two-day event on Twitter, and I'm inviting y'all to consider making a similar per-ride donation of any amount that you'd like to join in the fight against CF! ***
Why Cystic Fibrosis?
When I'm not traveling to theme parks or speaking at education conferences on opposite ends of the U.S., I work full time as a teacher and instructional coach at Bishop Denis J. O'Connell High School in Arlington, Virginia. And for 45 years and counting, our school has hosted it's annual "Superdance" event, a massive 12-hour fundraiser with all of the proceeds dedicated to finding a cure for CF. In fact, the students of Bishop O'Connell have raised more than $4 million since the dance was founded in 1975! This event is the largest high school fundraiser for this cause. More than 95 percent of the student body and just about every single adult in the building participates in this event each year. We're talking well over a THOUSAND students, teachers, and volunteers packed into our school's gymnasium for a nonstop slate of live bands, DJs, games and so much more.
It's a lot like a day in Disney, actually. And it's really hard not to get caught up in all the excitement.
This year's Superdance is on Saturday, March 14 – the exact same day I'm scheduled to present at Empower20 in California. Since I'll have no choice but to miss the big event at school this year, I wanted to honor the spirit of the day and invite everyone to join me in paying it forward for a really great cause. Hence the launch of this Coast-to-Coast Challenge to fight CF.
Bonus Incentives!
What? EXTRA content for supporting an already amazing cause?! You betcha. As an extra sign of appreciation for your support, every person who donates to this campaign will automatically receive a **hand-written thank you note and **FREEBIE EDrenaline Rush stickers!
"Even more giveaways," you say? Ok. Why not!
Everyone who makes a donation will automatically be entered into a prize raffle to win signed copies of EDrenaline Rush!! And I'm giving away a half a dozen books – so there are plenty of chances to win!
(PS: if the pledge form doesn't collect your contact information for any reason, please feel free to hit me up on Twitter at @MeehanEDU and we'll make sure to get you your freebies and enter you in the raffle!)
The Details:
Two days of theme parks. Twenty eight hours of park hopping. And all the rides* I can stomach – motion sickness or not!
Saturday, March 7:  Magic Kingdom park (in Orlando) 9 am to 9 pm (12 hours)

Friday, March 13: Disney's California Adventure and the Disneyland Park (in Anaheim) 8 am to 12 am (16 hours!)
To keep everyone up to date on how the challenge is going, I'll be posting updates to Twitter all day long at both locations with plenty of photos, videos, and links to how you can join in the fun.
* For the sake of this challenge, "rides" refer to official attractions that move inside of either park – and don't count shows and walk-through attractions (sorry, Hall of Presidents). And if we're in line before the park closes, the ride counts (even if the actual time we get on the ride vehicle is slightly after the official closing time of the park). By my best count, that means we're looking at 25 rides in Orlando:
Main Street Vehicles
Jungle Cruise
The Magic Carpets of Aladdin
Pirates of the Caribbean
Big Thunder Mountain Railroad
Splash Mountain
Rafts to Tom Sawyer Island
Walt Disney World Railroad
Haunted Mansion
Liberty Square Riverboat
Dumbo the Flying Elephant
It's a Small World
Mad Tea Party
Peter Pan's Flight
Prince Charming Regal Carrousel
Seven Dwarfs Mine Train
The Barnstormer featuring the Great Goofini
The Many Adventures of Winnie the Pooh
Under the Sea: Journey of the Little Mermaid
Astro Orbiter
Buzz Lightyear's Space Ranger Spin
Space Mountain
Tomorrowland Speedway
Tomorrowland Transit Authority PeopleMover
Walt Disney's Carousel of Progress
And in Anaheim, we're looking at 54 rides:
Alice in Wonderland
Astro Orbitor
Autopia
Big Thunder Mountain Railroad
Buzz Lightyear Astro Blasters
Casey Jr. Circus Train
Davy Crockett's Explorer Canoes
Disneyland Monorail
Disneyland Railroad
Dumbo the Flying Elephant
Finding Nemo Submarine Voyage
Gadget's Go Coaster
Haunted Mansion
Indiana Jones Adventure
"it's a small world"
Jungle Cruise
King Arthur Carrousel
Mad Tea Party
Main Street Vehicles
Many Adventures of Winnie the Pooh
Mark Twain Riverboat
Matterhorn Bobsleds
Millennium Falcon: Smugglers Run
Mr. Toad's Wild Ride
Peter Pan's Flight
Pinocchio's Daring Journey
Pirate's Lair on Tom Sawyer Island
Pirates of the Caribbean
Roger Rabbit's Car Toon Spin
Sailing Ship Columbia
Snow White's Scary Adventures
Space Mountain
Splash Mountain
Star Tours — The Adventures Continue
Star Wars: Rise of the Resistance
Storybook Land Canal Boats
Golden Zephyr
Goofy's Sky School
Grizzly River Run
Guardians of the Galaxy — Mission: BREAKOUT!
The Incredicoaster
Inside Out Emotional Whirlwind
Jessie's Critter Carousel
Jumpin' Jellyfish
The Little Mermaid ~ Ariel's Undersea Adventure
Luigi's Rollickin Roadsters
Mater's Junkyard Jamboree
Monsters, Inc. Mike & Sulley to the Rescue!
Pixar Pal-A-Round
Radiator Springs Racers
Red Car Trolley
Silly Symphony Swings
Soarin' Around the World
Toy Story Midway Mania!