I was born in the Democratic Republic of the Congo, in the city of Lubumbashi on the southeast end of the country. For much of my youth, I ate one meal a day because that is all we could afford. Getting to and from school required a two hour walk every single day until my father was able to afford a car. My childhood was not unique to those born in the DRC. Hunger and starvation are commonplace. The life expectancy in the DRC is in the 50s and the infant mortality rate is among the highest in the world. Over 60% of the children in my home country are not able to go to school as I did, and are becoming soldiers just to survive.
I was lucky to be blessed with a unique talent to play basketball. A talent that has taken me from the Congo all the way to the NBA. While basketball helped provide me with opportunities abroad, my family and the desire to give back to the people of the DRC brings me back there every summer. I love the potential of this place. And I think we have a bright future.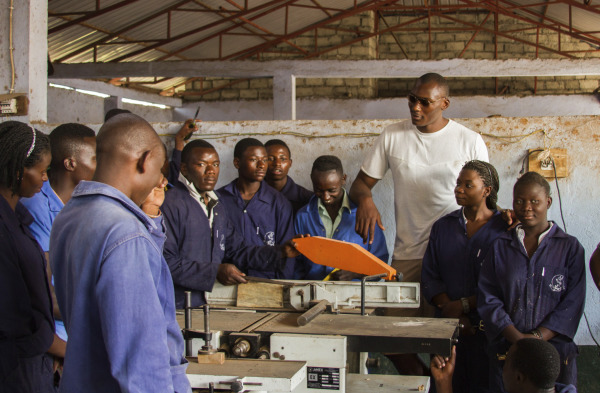 I recently set the Toronto Raptors franchise record of 25 rebounds in one game. I'm excited to try and beat that record before we head into the playoffs. So I'm proposing a challenge to Biznation!
---
JOIN ME IN MAKING A DIFFERENCE IN THE DRC
I pledge to donate $1,000 for every rebound I register in our game against the Atlanta Hawks on March 30th. You can support by cheering me on and pledging a donation for each rebound as well - it can be as little or as much as you can, every little bit helps!
---
Join me as I play for the children's future in my home country. All proceeds will benefit the Eastern Congo Initiative and will help improve the lives of our citizens.
Founded by Ben Affleck, Eastern Congo Initiative (ECI) is an advocacy and grant-making organization wholly focused on helping the Democratic Republic of Congo rebuild after decades of conflict. ECI supports the education of the next generation of Congo's leaders, provide professional training programs for former child soldiers, and enable access to justice for survivors of sexual violence.
Additionally, ECI engages the private sector model to build sustainable economic development opportunities for poor farmers to integrate into the global economy. In March 2016, Starbucks will debut its very first single-origin Congo coffee in nearly 1,600 stores across the United States and Canada, tripling the income of 4,500 farming families. To learn more, please visit easterncongo.org.
Sincerely,
Bismack Biyombo